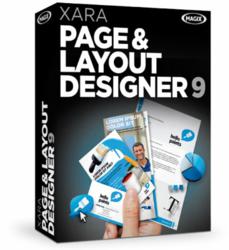 "For the first time designers can use page layout software with all the usual 'design for print' freedoms, but with the ability to publish these as totally accurate WYSIWYG web documents." Charles Moir, Founder and Managing Director of Xara
(PRWEB) July 03, 2013
Xara are pleased to announce the launch of a new DTP product adding to their highly successful Xara Designer range. Xara Page & Layout Designer is a general purpose 'document processor'. Everything needed to produce printed and PDF documents is included in this one single program - word processor, graphic design and photo editing.
Xara Page & Layout Designer is the perfect solution for creating a wide range of marketing materials to professionally present an individual, a business or organization. It is ideal for creating brochures, product guides, flyers, reports, company stationary, posters etc to be printed or as PDFs.
With Xara Page & Layout Designer it's easy to create documents and marketing materials either by customizing one of the royalty-free templates from the wide range on offer or by creating your own from scratch. There are 3000+ graphics available for you to add additional impact. Templates provide impressive results quickly and easily with no graphic or technical skills required.
Xara Page & Layout Designer provides comprehensive text handling tools:

Text Styles
Multi-column support
Google Fonts integration (600+ fonts, with advanced font picker an automatic download and install)
Headers & footers, repeating objects, page numbering styles
Word processor-like text flow with automatic page creation for easy long document handling
Multi-language spell checkers
Automatic repel text around irregular shapes or images
Other key features include:

Comprehensive vector drawing tools
Incredible 72,000 dpi working resolution
Fast and powerful photo editing
CMYK, PANTONE ® colour support
Fast, high quality PDF and PDF/X support
A huge range of import and export types including Word .docx support
DTP for the Web - Most 'designer created' documents are disseminated via the web, typically as PDFs because traditionally that's the only way to ensure accurate fidelity of design. Xara Page & Layout Designer contains a direct and unique way to publish any document to the web, with full fidelity that they're calling 'Web Documents'.
Web Documents are multi-page documents, where the designer has total freedom of design in a similar manner to a print document created with DTP or page layout software. Xara Page & Layout Designer enable the designer to include all the things typically regarded as difficult, if not impossible, on the web (multi-column layouts, text repel around irregular shapes, a free mix of vector illustration, text and photos, and precisely accurate fonts and text layouts). Documents created are fully HTML compatible and fully WYSIWYG.
Charles Moir, Founder and Managing Director of Xara said, "For the first time designers can use page layout software with all the usual 'design for print' freedoms, but with the ability to publish these as totally accurate WYSIWYG web documents. No PDFs or plug-ins are required and its fully compatible with modern browsers including phones and tablets. Smartphone or tablet users can quickly swipe through a whole multi-page document, with design as complex as any print layout. No longer it is necessary to use one program for producing brochures or DTP material and then have all this design work re-created and re-purposed for the web. Xara brings DTP to the web without using PDFs."
Xara Page & Layout Designer is part of the Xara Designer family and, as such, there's an upgrade path to Xara Designer Pro where users can use the same files, designs, documents and artwork to produce websites.
Xara Page & Layout Designer costs just $89.99 for US customers with an introductory offer of $20 off, £69.99 for UK (inc VAT) and €69.99 (inc VAT) for the EU with introductory offers of £10 and €10 off.
It operates on Windows XP/Vista/7/8 and requires a minimum 500MB of RAM and 300MB of hard disc space.
For more information see - http://www.xara.com/page-layout-designer/.
More information and downloads
Please see the press center at http://www.xara.com/press-center/page-layout-designer/.
This includes press materials, graphics, screenshots, product information and a full list of new features.
Contact:
For more details or a serial number to unlock the trial version please contact: Nova Fisher by email or call +44 1442 351035
Technology
The W3C and browser vendors are working on ways to introduce advanced layout capabilities to the web, beyond HTML5, with features such as multi-column support and text flow-around (see CSS regions and CSS multi-column). It's excepted it will be years before such features become widespread. but Xara Page & Layout Designer can do this right now, with the current web standards.
About Xara Group Ltd
Xara, founded in 1981, was one of the oldest independent software developers in the UK, until it was acquired by Magix AG in 2007. Xara continues to develop innovative graphics, website building, and document publishing tools, which are marketed around the world under both the MAGIX and Xara brand names.
About MAGIX AG
MAGIX is a leading international provider of high-quality software, online services and digital contents for multimedia communications. Since 1993, MAGIX has been developing leading technologies for creation, editing, management and presentation of photos and graphics, videos and music. Internationally, MAGIX operates from branches in the USA, Canada, the UK, Germany, France, Italy, Spain and the Netherlands. The product range is targeted towards laymen and professionals alike and goes beyond the PC range to include seamlessly integrated online and mobile applications.
According to its retail sales figures, MAGIX leads in the multimedia software sector in the most important European markets, and is one of the most successful competitors in the USA. Fifteen years of market presence as well as one thousand awards worldwide testify to the company's power of innovation.