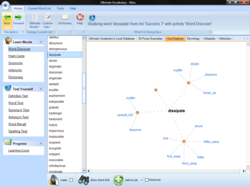 ...the developers at eReflect clarified that it's not just the number of words available to users, but the range of information about those words that's important.
New York City, NY (PRWEB) July 05, 2013
In a recent review, Vocabulary.co.il stated that the extensive word database Ultimate Vocabulary™ is equipped with is one of its great assets as it provides a comprehensive range of details on a vast number of words. According to the review published at Vocabulary.co.il. Ultimate Vocabulary™ has catapulted to the No. 1 place in view of its unique quality features and tools. In today's statement, the developers at eReflect clarified that it's not just the number of words available to users, but the range of information about those words that's important.
As the developers note, Ultimate Vocabulary™works both as a complete dictionary and as a vocabulary improvement program, making it versatile and multi-purpose. This is not something many other vocabulary improvement software products can boast of, the reviewer emphasized. Providing this critical feature was key to the development process, explained the eReflect team, and the database will continue to be updated in future releases as necessary.
While most vocabulary programs are limited to databases containing 40,000 words or less, Ultimate Vocabulary™ contains a 140,000 word database, making it the most comprehensive and complete database ever included in a vocabulary building software. What particularly impressed the reviewer at Vocabulary.co.il was that the database is not just providing definitions. Rather, it offers complete, in-depth knowledge for every unknown word. In today's statement, the eReflect developers confirmed that multiple approaches to vocabulary work best, which is why they included synonyms, antonyms, visual representations of words, 50 power examples of real-world usage, as well as Wikipedia and Word Explorer resources for additional information for each word.
As the reviewer of Ultimate Vocabulary™ has suggested, this feature cannot currently be matched by the other vocabulary building software programs on the market, and it's one of the primary reasons that Ultimate Vocabulary™ is the number 1 choice for families wishing to easily and efficiently build their children's vocabulary.
The reviewer attributes the efficiency of Ultimate Vocabulary™ not to the sheer amount of words in its word database, but on the fact that every aspect of Ultimate Vocabulary™'s structure was designed purposefully and in accord to scientific, educational strategies, in order to offer real vocabulary boosting. The overall verdict of the reviewer highlights the fact that the combination of educational tools and its adjustability to all types of users is what gives Ultimate Vocabulary™ a competitive edge.
For more information on how you can benefit from Ultimate Vocabulary, please visit its official website, http://www.ultimatevocabulary.com.
About Ultimate Vocabulary™
Ultimate Vocabulary provides a proven and powerful platform, built to improve anyone's vocabulary.
The interactive self-improvement system provides more learning tools than any other program on the market, as well as more information on words.
The Ultimate Vocabulary software provides each and every user with a personal computer tutor. Providing a step-by-step guide to learning a powerful vocabulary, Ultimate Vocabulary is the learning tool everyone can benefit from.
Of course, the software is also backed by eReflect's iron-clad money back guarantee.