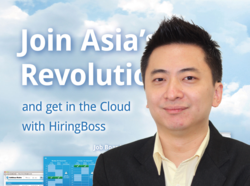 HR technology plays an important part in fighting for highly skilled talent.
(PRWEB) July 08, 2013
HiringBoss addresses the unique and complex needs of the Asian HR & Recruitment market with expansion already transpired in Tier 1 countries Singapore, Japan and Hong Kong. This year has been focusing on dominating Tier 2 developing countries in Asia; Vietnam, Indonesia, China, and now Malaysia. There are many opportunities which exist in Malaysia as Rolf Bezemer, Global COO for HiringBoss explains:
"Malaysia presents an exciting opportunity for HiringBoss because it is a relatively advanced and still developing country in the Asia region. Malaysia has setup lots of the basic business criteria with economic and political frameworks in place and has strategic plans to become a fully developed country by 2020. With this commitment to a developed status, the Malaysian economy is experiencing steady growth. The average salary per capita is increasing, and the role of people in employment is also changing as people enter into more official labor contracts. In response, we are seeing organizations focused on building infrastructure to attract candidates and manage employees."
Rolf continues to explain why technology plays an important part in the Malaysian recruitment process:
"Malaysia has built good infrastructure within their Information Technology industry, with tech hubs being built in areas such as Cyberjaya and Putrajaya. Companies in Malaysia know how to compete for top talent but the role of technology in HR is still relatively new and needs to increase in order to manage the recruitment process more efficiency. As evident in more developed nations, HR technology plays an important part in fighting for highly skilled talent. Malaysia has a relatively young labor force, who are far more technically savvy than their parents. Because education levels have increased, so too have people's expectations of having more in their job including comprehensive labor contracts, higher pay and Employer Relations."
Rolf explains there are additional recruitment challenges that Malaysia are facing and provides suggestions for how Malaysia can win this war for top talent:
"Malaysia currently has an issue with talent-drain, by competing with surrounding countries like Singapore who are more advanced, better organized, can offer higher salaries and future career opportunities. Malaysian companies therefore need to offer applicants a more positive candidate experience, focus on developing a strong employer brand, addressing Gen Y, managing employees beyond recruitment, and allowing them to advance their career within Malaysia."
"Growth in Malaysia is possible by HR departments working smarter to source and attract young, highly skilled and educated demographics. Whether they want to attract and connect with local, foreign or local Malaysian talent abroad, having the latest technology tools available will enable recruitment projects to remain competitive. Malaysia has a long history of organizations building robust processes and IT frameworks to align their business needs with. The next step is to enable HR departments with functional software that increases efficiency without a high price tag."
HiringBoss are taking advantage of this growing economy by recently opening their new office in KL, Malaysia:
"HiringBoss are pleased to announce our newly appointed Malaysian team, led by industry expert Johnson Tan, our new Country Manager and a team of talented people in KL, who will confidently accelerate our business venture in Malaysia. We have high expectations but are really looking forward establishing a strong business and profitable market presence there within a short period of time."
Rolf concludes by outlining why organizations in Malaysia should consider HiringBoss as their HR & eRecruitment software solution of choice:
"HiringBoss are keen to support any organization from Start-ups to SME's to MLC's that are wanting to attract and recruit highly skilled talent or workers for growth or turnover in Malaysia. HiringBoss has been designed in Asia, for business in Asia by providing IT products that are simple to use, intuitive, process driven and most importantly affordable. We are the only HR & eRecruitment software provider taking Asia seriously with a dedicated local support team, multilingual capability in 17 languages and consideration of local sources and practices. In Malaysia, the concept of SaaS is highly penetrated, so they understand that by learning from best practices overseas, we are able to provide smarter offerings without complex processes or long IT implementations."
HiringBoss recently secured significant investment from JAFCO, the largest and most prestigious investment firm in Japan. This recent investment has been used for increased R&D, support and passion in delivering the best applicant tracking and HR solutions they can for their customers… and further illustrates their commitment in establishing HiringBoss as Asia's leading HR and Recruiting software provider.
HiringBoss are actively sourcing talented people to join their growing and successful team. Visit http://www.hiringboss.com for more info.