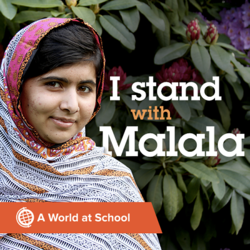 Leeds, West Yorkshire (PRWEB) July 03, 2013
Over 75,000 young people are joining a campaign for global access to education from A World at School, founded by Sarah Brown, via the safe learning platform Makewaves.
Thousands of schoolchildren are joining the fight for global access to education via the social learning platform Makewaves, responding to a campaign by A World at School, founded by Sarah Brown and supported by Gordon Brown, UN Special Envoy for Global Education.
Makewaves, which is used by over 4,000 UK schools, has been chosen as the youth social media partner of the A World at School campaign, which aims to help 57 million children out of school get access to education.
Young people using the platform are being asked to share stories, videos, pictures and podcasts about what education means to them, and also to send their messages to Malala Yousafzai - the 15-year-old who was shot less than a year ago for advocating education for girls in Pakistan.
Malala will mark her 16th Birthday by delivering a set of education demands written by young people, for young people, to United Nations Secretary-General Ban Ki-moon on the 12th of July in New York.
Young people on Makewaves can earn the A World at School digital badge by submitting their messages, explaining what school means to them.
In a message to the community, Makewaves CEO Mark Riches said: "This is your opportunity to voice why you value your education, in order to bring about change for the rest of the world."
Currently, there are 57 million children without access to education, and millions more who aren't learning in school. In 2000, world leaders made a commitment to get all children into school by 2015. Now, less than three years from that deadline, it's time to make a final push and get all children into school and learning.
Young people can learn more about Malala's inspiring campaign and submit their stories at https://www.makewav.es/aworldatschool.