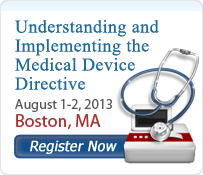 Palo Alto, CA (PRWEB) July 09, 2013
ComplianceOnline, the leading governance, risk and compliance advisory network with over 500 experts in various regulatory subjects, today announced a seminar on Understanding and Implementing Medical Device Directive. The two-day long seminar led by regulatory affairs expert Dan O'Leary will be held on August 1 and 2, 2013 in Boston, MA.
This seminar will explain EU medical device regulations including EN ISO 13485:2012 & EN ISO 14971:2012 and will provide tools for implementing Medical Device Directive and MDD requirements and documentation process.
For more information or to register for the seminar, please click here.
Seminar instructor Dan O'Leary has more than 30 years of experience in quality, operations, and program management in regulated industries including aviation, defense, medical devices, and clinical labs. He is an ASQ Certified Biomedical Auditor, Quality Auditor, Quality Engineer, Reliability Engineer, and Six Sigma Black Belt; he holds an APICS certification in Resource Management.
During the two-day interactive seminar, Mr. O'Leary will focus on understanding of the Medical Device Directive (MDD) and its latest implementation tools. He will explain how to classify devices, select the appropriate conformity assessment path, prepare the required documentation, and maintain it. He will also discuss Quality Management System (EN ISO 13485:2012), Risk Management (EN ISO 14971:2012), Clinical Evaluation (MDD Annex X), the role of harmonized standards, and the vigilance system. Attendees will receive detailed checklists that help classify devices, analyse and apply the essential requirements, and conduct internal quality audits. The seminar will help the attendees to prepare themselves for unannounced inspections.
This seminar will be beneficial for individuals involved in quality or regulatory compliance for medical devices marketed in the European Union. Quality, regulatory, and clinical professionals working in the healthcare, clinical trial, bio pharmaceutical, and medical device sectors will also benefit from attending the seminar.
Date: Thursday, August 1 (8.30 AM- 4.30 PM EDT) and Friday, August 2, 2013, (8.30 AM- 4 PM EDT)
Location: Boston, MA
Registration Cost: $1,099.00 per registration
Early bird discounts: For discounts on early registrations, please click here
Register by phone: Please call our customer service specialists at +1-650-620-3937 or email to customercare(at)complianceonline(dot)com.
For more information on ComplianceOnline or to browse through our trainings, please visit our website
About ComplianceOnline
ComplianceOnline is a leading provider of regulatory/compliance trainings for companies and professionals in regulated industries. ComplianceOnline has successfully trained over 20,000 professionals from 3,000 companies to comply with the requirements of regulatory agencies. ComplianceOnline is headquartered in Palo Alto, California and can be reached at http://www.complianceonline.com
For more information please contact:
A Reuben Bernard
Manager of Program Marketing
ComplianceOnline
2600 E Bayshore Rd
Palo Alto CA USA 94303
650-620-3937 phone
650-963-2530 fax
reuben(at)complianceonline(dot)com