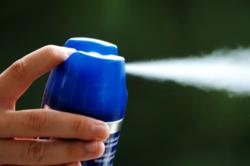 Austin, TX (PRWEB) July 05, 2013
As warm summer months continue, insect repellents become a necessity for many US families. However with the variety of repellent products out there, it can be difficult to determine the safest, most effective option for protecting children from mosquito bites.
According to a May 2013 article published by AAP News, the four most common ingredients found in US repellent products are Deet, Picarding or Icaridin, Permethin, and IR 3535. Dr. Gordon Shutze and Dr. Marc Fischer provide parents with important safety information for each product:
Deet is the most common ingredient used in US repellent products and is safe and effective if used appropriately. The American Academy of Pediatrics recommends this ingredient for all family members over the age of two months and in concentrations of 30%.
Picarding or Icaridin has shown to be the most tolerable repellent ingredient as it is odorless, non-sticky, non-greasy, and does not damage fabric or plastic.
Permethin is not used on skin but instead on mosquito nets, camping gear, shoes, etc.. This is due to the reaction it causes within insects known as nervous system toxicity.
IR 3535 is the active ingredient found within oil of lemon eucalyptus and is just as effective as Deet. It is not recommended for children younger than three years of age.
In addition, Dr. Katalenas provides parents with basic tips for applying insect repellent safely, such as not allowing children to apply repellent themselves, avoiding repellent spray to the face, and more.
About Dr. Marta Katalenas
Dr. Marta Katalenas is a pediatrician, owner of The Pediatric Center of Round Rock, and author of The Step Up Diet: From Scratch... The Quality, Quantity, and Timing Solution to Childhood Obesity. Her practice offers a nutrition management program that helps families make the lifestyle changes necessary to promote and maintain good health. Dr. Katalenas is a frequent guest on local television shows and is media resource for childhood obesity and pediatric health issues.