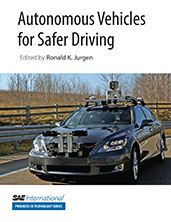 Self-driving cars are no longer in the realm of science fiction, thanks to the integration of numerous automotive technologies that have matured over many years.
Warrendale, PA (PRWEB) July 04, 2013
Self-driving cars are no longer in the realm of science fiction, thanks to the integration of numerous automotive technologies that have matured over many years. A book from SAE International, "Autonomous Vehicles for Safer Driving," covers the current state of autonomous vehicle research and development as well as obstacles to overcome and a possible road map for major new technology developments and collaborative relationships.
Technologies such as adaptive cruise control, forward collision warning, lane departure warning, and V2V/V2I communications are being merged into one complex system. The papers in this compendium were carefully selected by author Ronald K. Jurgen to bring the reader up to date on successful demonstrations of autonomous vehicles, ongoing projects, and what the future may hold for this technology. It is divided into three sections: overview, major design and test collaborations, and a sampling of autonomous vehicle research projects.
The section on major design and test collaborations covers Sartre, DARPA contests, and the USDOT and the Crash Avoidance Metrics Partnership-Vehicle Safety Communications (CAMP-VSC2) Consortium. The final section presents seven SAE International papers on significant recent and ongoing research by individual companies on a variety of approaches to autonomous vehicles.
After graduating from Rensselaer Polytechnic Institute with a B.E.E., Jurgen held various technical magazine editorial staff positions, including 30 years with IEEE Spectrum. Now retired, he is the editor of the "Automotive Electronics Handbook" and the "Digital Consumer Electronics Handbook," and assistant editor of the "Electronics Engineers' Handbook, Fourth Edition." He is also the editor of more than a dozen SAE International books on automotive electronics.
Book Details:

Published By: SAE International
Published: May 2013
Pages: 140
Binding: Softbound
Product Code: PT-158
ISBN: 978-0-7680-7993-7
Price: $109.95 List, $88.00-$99.00 SAE International Member (Pre-order Now and Save 10%)
To request an electronic review copy of the book, email pr(at)sae(dot)org. Forward published reviews to Shawn Andreassi at pr(at)sae(dot)org or SAE International, 400 Commonwealth Dr., Warrendale PA, 15096-0001, to receive a print copy of the book or another equivalent SAE International book.
Related titles from SAE International include:
"V2V/V2I Communications for Improved Road Safety and Efficiency" by: Ronald K. Jurgen
"Occupant Protection and Automobile Safety in the U.S. since 1900" by: Roger F. Wells
"Active Safety and Connectivity in the Mobility Industry" by: Dr. Andrew Brown, Jr.
SAE International is a global association committed to being the ultimate knowledge source for the engineering profession. By uniting over 138,000 engineers and technical experts, we drive knowledge and expertise across a broad spectrum of industries. We act on two priorities: encouraging a lifetime of learning for mobility engineering professionals and setting the standards for industry engineering. We strive for a better world through the work of our philanthropic SAE Foundation, including programs like A World in Motion® and the Collegiate Design Series™.