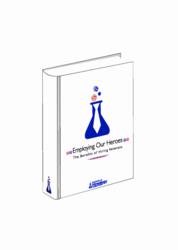 Rather than seeing extensive training and skills application from time spent in the military, they see a gap in employment on the veteran's resume. -- Morgan Gleasman, Recruiting Manager
Chicago, Ill (PRWEB) July 03, 2013
Hireology, a leading selection management platform, has released a new eBook titled "Hiring Our Heroes: The benefits of hiring veterans." Emphasizing the benefits of hiring veteran job seekers, the guide outlines the unique attributes and skills many veterans encompass, as well as detailing the available tax credits for employers who hire vets.
Though unemployment rates amongst veterans have decreased over the past 12 months, significant efforts still need to be made to ensure returning soldiers will have an equal opportunity for employment. By highlighting the traits and abilities many veterans learn while serving, Hireology's guide explains how these aspects can translate into a civilan workplace. Moreover, it includes information of the various types of tax credits employers can earn by hiring veteran employees.
"Some hiring managers don't always recognize the benefits of a hiring a veteran. Rather than seeing extensive training and skills application from time spent in the military, they see a gap in employment on the veteran's resume," said Morgan Gleasman, Hireology's recruiting manager. "Once they give veteran job seekers a chance and make a hire, we see that time and time again these are the employees with the greatest tenure."
To learn more about the benefits of hiring veteran job seekers, download "Hiring Our Heroes: The benefits of hiring veterans." For further information on employee retention, please visit Hireology's Better Hiring Today blog.
About Hireology
Hireology's award-winning Selection Management System helps companies organize their hiring process and leverage data to make better hiring decisions. Franchise systems, banks and financial institutions, healthcare systems, dealer networks, and other multi-site operators use Hireology's web-based Selection Manager™ to deliver consistent and repeatable hiring decisions in the field - leading to better hiring decisions, lower turnover, and increased profitability per location. For more information, please visit http://www.Hireology.com.