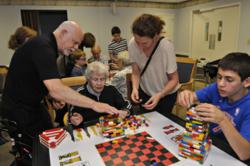 by bringing the generations together through these workshops, it opens a dialogue between young and old. The seniors love it and the kids love it too
South Orange, NJ (PRWEB) July 03, 2013
Residents of the Village Apartments of the Jewish Federation in South Orange were joined by area youngsters, family members, and staff for some intergenerational fun and learning with LEGOs, led by architect Stephen Schwartz. Schwartz of SWS Architects in Livingston, N.J. gave a presentation about the benefits of wind energy as a segue to one of his Building Blocks workshops, in which participants built their own colorful windmills out of interlocking LEGO blocks. The finished projects became the centerpieces for the annual gala held by the Board of Trustees of the Jewish Community Housing Corporation of Metropolitan New Jersey (JCHC), which manages Village Apartments and three other senior living communities in South Orange, West Orange, and Whippany. Village Apartments of the Jewish Federation is located at 110 Vose Avenue in the heart of South Orange.
The two-hour program also served as the kickoff for the upcoming 25th anniversary celebration of Village Apartments, which will be formally observed in September with the theme "Come Home to our Village." Schwartz is a JCHC board member and the decorations chair for the anniversary event. He has been conducting his Building Blocks workshops as an interactive, creative way for multiple generations to learn about their communities' architectural heritage. Several other JCHC board members joined in the fun.
"The motto of 'Come Home to our Village' was clearly represented in tonight's event," said Harold Colton-Max, CEO of the JCHC. "Village Apartments is more than an apartment building—it is a true community where seniors and area residents of all ages can come together to build relationships and share programs in many different ways." Colton-Max noted that participants in the windmill workshop spanned the ages of 4 to 94.
Of the event, architect Schwartz said, "I have found over the years that by bringing the generations together through these workshops, it opens a dialogue between young and old. The seniors love it, the kids love it, and we look forward to having the youngsters come back to Village Apartments for another program."
About the Jewish Community Housing Corporation of Metropolitan New Jersey
Founded in 1982, the Jewish Community Housing Corporation of Metropolitan New Jersey (JCHC) developed and manages more than 475 apartments in four buildings for older adults in Morris and Essex counties in northern New Jersey. The non-profit organization offers seniors a range of options in terms of services, amenities, location, and cost, all within a traditional Jewish environment. The JCHC provides housing, programs, and services for the independent elderly as well as those who need assisted living. For more information, go to http://www.jchcorp.org.