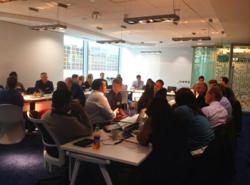 It's an exciting opportunity for The Rowley Campus to be part of the Tablets for Schools scheme. We believe the devices will provide a positive step change in learning in our schools for each and every child.
London, UK (PRWEB UK) 4 July 2013
On June 13th, Google UK hosted a workshop for the 13 secondary and primary schools participating in the Tablets for Schools Nexus 7 programme across England.
Tablets for Schools is giving 7,300 Nexus 7 tablets to the schools, thanks to a donation from Google UK. Prior to the workshop, schools had already received tablets for key staff in each school to test out in advance. The workshop aimed to advise schools on how to successfully integrate the tablets into teaching and learning, and provided an opportunity for staff to feed back their experiences with the devices. The event was run by Tablets for Schools and its partner 9ine Consulting. Partners Geek Squad, Know How and Educational App Store also attended.
About Tablets for Schools
Tablets for Schools (http://www.tabletsforschools.co.uk) is a multi-agency, non-profit initiative advocating for the integration of tablets into UK education, primarily through commissioning independent research on the learning benefits of mobile and interactive education. Tablets for Schools and its partners believe that the interactive form of learning associated with tablets provides students with enhanced creative and innovation skills, improved mastery of curriculum subject matter, and the adaptability necessary for participating in an increasingly networked world. Tablets for Schools enjoys a broad base of support from teachers, parents, schools, leading academics, industry, and government.
About the Nexus 7
The integration of Google Play and Android 4.1 makes the Nexus 7 an ideal platform for educational apps and games, and e-books. The Nexus also features near field communication (NFC) connectivity, further enhancing the tablet's existing collaboration and content-sharing capabilities. At the workshop, Richard Turner (Director of EMEA Android Partnerships for Google) stressed both Google's strong commitment to the Tablets for Schools programme, and the company's keen interest in the learning benefits of 1-2-1 devices. Tablets for Schools is device agnostic and always recommends that schools select devices that are right for their needs.
How participating schools were selected
Tablets for Schools researched the factors that contributed to successful tablet integration, and based their selection on three criteria. First, each school required adequate infrastructure to enable Nexus 7s to be used throughout the campus. Second, the schools had to consider the tablet donation within the context of a learning programme based on empowered learners. Third, each school agreed to be involved in Tablets for Schools' on-going research programme. The schools have been selected from across England such as Greenford High School in Southall, The Rowley Campus in Birmingham and Dixons City Academy in Bradford, including creative collaboration between primary and secondary schools.
Outcomes of the Workshop
The workshop dealt with the key considerations for schools when integrating tablets into teaching and learning. Participants' questions included technical issues (including school-wide deployment, connectivity, e-safety, and security), in addition to concerns about change management, and the best way to engage staff, parents and governors. However, it was agreed that the complexity of the change management process depended largely on the volume of deployment. Simon Thomas (Practice Director at 9ine Consulting) addressed some of these issues by taking attendees through a checklist outlining the challenges of introducing tablet schemes, and the benefits for learners. 9ine also recommended that schools choose Google Apps for Education to create institutional Google accounts.
Representatives from The Educational App Store provided advice on how to select those teaching and learning apps that provide maximum educational value.
The response to the workshop was overwhelmingly positive; one of the staff members from The Rowley Campus in Birmingham emphasised: "It's an exciting opportunity for The Rowley Campus to be part of the Tablets for Schools scheme. We are working hard to make sure we are fully prepared for the Nexus 7s working alongside experts from the Tablets for Schools team. We believe the devices will provide a positive step change in learning in our schools for each and every child."
The Tablets for Schools team will hold more events leading up to full deployment. Device delivery will take place in early July. A Google Education Apps and Meraki Technical Workshop for IT/Technical support staff was delivered by 9ine consulting on July 2nd in London.