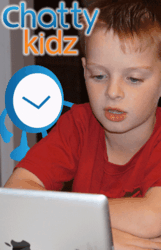 connecting children, families & learning
Sydney, Australia (PRWEB) July 05, 2013
There is a huge selection of educational apps available for iPads. Modern parents spend a lot of time and money reviewing app's to try with their children. But do they actually work & which apps should parents use to help their kids learn better?
When a parent works with their child learning to read, they must encourage (i.e. force) their child to practice; there is no magic bullet. Every child learns at different rates and prefers different stories, so it can be hard to motivate your child unless they read at the right level & a story they enjoy.
Technology doesn't replace the existing teaching strategies but provides new and different opportunities to practice. The vast majority of the educational apps assume the child will work through the content solo, but can parents expect this to happen? If you gave a young child a book to read, how long would they sit and actually read it? Most kids will leaf through the book, look at the pictures, read a bit then move onto something else more entertaining. They prefer to zone out playing games or videos; it's a lot less effort than learning.
In the real world, learning to read is a group activity: the parent is involved to ensure the child does the work and help where necessary.

Reading to the child – this starts at a young age & many parents continue this great habit as the child gets older.
Ensuring your child sees you reading – set a good example and let the child know its fun to read.
Asking questions about the story – whilst reading a new story parents can ask questions before, during and after reading to encourage the child's curiosity and to help them understand the story better.
Sounding out new words – encouraging the child to sound out words they do not know, it's not as simple as telling them the word but teaching them the skills to work it out for themselves.
Reading a variety of books – introduce the child to new genres and discover new stories they enjoy.
Reading with different people – by encouraging your child to read with different people, they will practice more often.
Have fun – the child has to enjoy reading before they want to do it themselves.
Apps are often used as a tool to entertain the children and provide the parent with valuable time to do other things, why do we think differently when using an iPad for learning? Adults need to be involved.
When using educational app's parents must commit time to read with the child, ask questions, help with new words, read different books, get other people involved and have fun.
Ken Taggart from Chatty Kidz says "Reality gets in the way, especially in our hectic modern lives there simply isn't enough time. Chatty Kidz solves this problem, it's a new iPad app where parents recruit distant family members to help. They spend time reading with the kids, whilst the parents make dinner. Using just an iPad and Internet connection anyone can help a child to learn to read and it doesn't cost anything to try it from the iTunes App Store".
"Chatty Kidz is running a Kickstarter campaign where customers can pre-buy discounted educational content connecting children, families & learning. Find out more and support Chatty Kidz visit the project page on Kickstarter ".
The benefits:

Children learn better & faster when working with family members
The children enjoy learning & using technology for learning
The interactivity & regular communication connects distant families
Collaboration for the greater good - the family is closer if they enjoy time working on common goals together
The parents/grandparents have a reason to use technology
Everybody has fun
The kids use the iPad for good instead of evil
Grandparents nurture a deeper bond with their grandchildren
Distant parents nurture a deeper bond with their children
For more information, please contact: Ken Taggart on +61431009975or ktaggart(at)chattykidz(dot)com