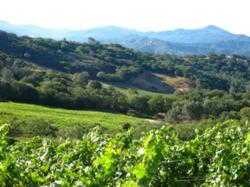 The sky is the limit for this area and is where one of our signature vineyards is located
Cloverdale, CA (PRWEB) July 09, 2013
Imagery Estate Winery, voted Sonoma County's best winery in 2013, the second year in a row, recently won a number of Gold Medals for wines made from premium wine grapes grown on their Pine Mountain - Cloverdale Peak Upper Ridge Vineyard in Cloverdale. This vineyard, leased from Silverwood Ranch, is part of the newly formed Pine Mountain - Cloverdale Peak AVA.
Imagery Estate Winery 2010 Malbec has received Gold medals, thus far in 2013, from the Sunset International Wine Competition, the San Diego International Wine Competition, and the Dallas Morning News Wine Competition. Gold Medals have also been awarded for the Imagery Estate Winery 2012 Wow Oui Sauvignon Blanc at the California State Fair Wine Competition and the North Coast Wine Challenge. Both of these wines are among the first to be bottled and labeled using the new Pine Mountain Cloverdale Peak Appellation.
"Upper Ridge vineyard on Pine Mountain has the distinction of being the highest elevation vineyard of Sonoma County," says Barry Hoffner, President of the Pine Mountain Cloverdale Peak Winegrowers Association. He adds, "the vineyard represents the best of our new AVA, with a number of premium varietals chosen for their ability to produce intense fruit at high elevations."
Pine Mountain - Cloverdale Peak AVA was approved by the Federal Tobacco, Tax & Trade Bureau for AVA designation in December 2011 and is highlighted by a small number of growers using sustainable vineyard practices on their high elevation vineyards. "The sky is the limit for this area and is where one of our signature vineyards is located," says Joe Benziger, Winemaker at Imagery Estate Winery.
For more information on the Pine Mountain Cloverdale Peak AVA, please see http://www.pinemountainava.org