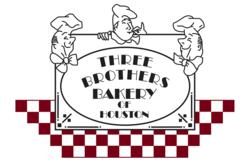 "The 4th of July is a fun holiday that promotes bringing together family and friends."
Houston, TX (PRWEB) July 03, 2013
Three Brothers Bakery is once again offering an impressive list of delicious treats that are perfect for any 4th of July celebration. From hamburger and hotdog buns for backyard gathering to cakes, pies and cupcakes that will make customers see fireworks, Three Brothers Bakery has it all.
Recognized for its exceptional cupcakes, Three Brothers Bakery encourages its customers to bring the family together and arrange a fun, unique tribute to the American flag with they bakery's selection of red, white and blue treats. Celebratory cupcakes can light up any 4th of July gathering and bring a splash of imagination to the hot Houston summer.
In addition to selling red, white and blue cupcakes, Three Brothers Bakery recommends pies and breads for the summer holiday season. Try their classic apple, cherry or pecan pies, any of which are perfect for this all-American weekend and are, as always, made completely from scratch.
The 4th of July holiday is the perfect opportunity to celebrate this wonderful nation with family and friends. As a bakery that revolves around family, Three Brothers will be offering a baker's dozen to customers, encouraging an attitude of "the more the merrier" for Independence Day gatherings.
"My family came to the United States from Poland, and while we are incredibly proud of that heritage, we are also so proud to be Americans," said Bobby Jucker, fifth generation baker and co-owner. "The 4th of July is a fun holiday that promotes bringing together family and friends. We encourage all of our customers to do just that, and remember to thank those that so bravely serve our country."
If store-bought buns do not do grilling skills justice, be sure to pick up Three Brothers' unbeatable hamburger and hotdog buns. Pair hot-off-the-grill hotdogs with the bakery's unique pretzel hotdog buns to inspire a chorus of "Ooh's" and "Ahh's." Both bakery locations will be open until 5 p.m. on Thursday, July 4th for any last minute items. No celebration is complete without picking up some of the incredible selections of 4th of July goodies at Three Brothers Bakery.
For more information regarding Three Brothers Bakery, July 4th offerings and additional holiday treats the bakery provides during the summer months, as well as year round, please contact Allison Huseman at 713-225-0880 or allison(at)integratepr(dot)com.
About Three Brothers Bakery
The traditions of Three Brothers Bakery began in Chrzanow, Poland circa 1825, and continued to thrive despite the family's concentration camp imprisonment during the Holocaust. Their miraculous liberation, and subsequent move to Houston, brought Eastern European scratch baking traditions to 4036 S. Braeswood Blvd and 12393 Kingsride Lane, where the owners are now proud to call themselves "memory makers who just happen to be bakers." Perfecting the process for almost 200 years, each day the fifth generation bakers produce mostly dairy-free breads and pastries, cookies, a full line of specialty dessert cakes and pies, as well as custom birthday, special occasion, wedding and groom's cakes using only the highest quality ingredients.
The Three Brothers Bakery pecan pie was named "the best mail order pecan pie America has to offer" by Country Living magazine, and most recently, bakery owner, Bobby Jucker competed in the popular 'Food Network Challenge ' and has been seen on Food Network's Outrageous Food. Three Brothers Bakery is a certified Woman-Owned Business through the Women's Business Enterprise National Council, and a State of Texas Historically Underutilized Business.
Follow Three Brothers Bakery on Facebook and Twitter for Houston area news, information and events.
###