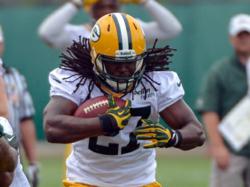 Green Bay, WI (PRWEB) July 03, 2013
After winning the Super Bowl in 2011, the Green Bay Packers have struggled slightly in the following two seasons. This year, coach Mike McCarthy is not going to allow that to happen, and is changing the ways of the team now, in the off-season. The team has done well during the past two regular seasons, but has come up short in the divisional rounds. In 2011 the Packers went 15-1 during the regular season, but then lost in the playoffs to eventual super bowl champs the New York Giants.
Then this past January, the team again lost in the playoffs, but this time to the San Francisco 49ers. After the loss, the coach and team knew there needed to be some attitude changes. It seems that so far this year the changes have indeed been made, as there is a lot more spirit, competition and drive in the weight room and on the field. Although the attitude has changed for the better, the team still has a lot of improvements to make and some voids to fill. There are multiple familiar names that have left during this off-season. Receiver Greg Jennings and linebacker Desmond Bishop have left to join rivals the Minnesota Vikings, receiver Donald Driver has retired, and defensive player Charles Woodson had been released.
Even with the loss of those recognizable names and faces, the Packers are on track to a great season. It has been believed that they were Super Bowl champion caliber teams the past two years, but have just come up short. To make sure that does not happen again, the coach made some changes to the lineups. Furthermore, the Packers did well in the draft and picked up top rookies Eddie Lacy of Alabama and Johnathan Franklin of UCLA. These two should greatly improve the Packers running game and will help them be that winning team again. To follow the Packers and all their team news, visit http://www.GreenBayPackers-Tickets.com. Customers can find on the site the lowest prices in Packers tickets on the web as well as a social media fan hub to stay connected.