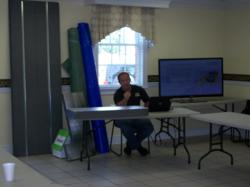 Mineral Bluff, GA (PRWEB) July 05, 2013
Keith Jensen, owner of Home Energy Shield has presented updated energy codes specific to basements and crawl spaces to locally certified builders.
The Building Code Refresher Course and Basement & Crawlspace Science presentation was held on June 24, 2013 at the United Community Bank in Blue Ridge, Ga. This energy code presentation covered topics like exceeding standards for insulation, building envelope, renovation and remodeling, lighting, HVAC ductwork, crawl spaces and more.
Jensen of Home Energy Shield, an insulation and home energy audit company located in Mineral Bluff, Ga., hosts a building code refresher course every year as a way for building contractors to earn continuing education units (CEUs) and to help them meet and exceed new energy codes.
"Energy codes are the responsibility of the builder regardless of county inspections," says Jensen, who is also a member of the Fannin County Builders Industry Association in Blue Ridge. Local builders would normally need to travel to Atlanta to earn their credits, but Jensen's presentation makes attending more convenient and helps the builders stay up-to-date on the latest codes.
According to Jensen, when energy codes are followed, the results will be energy and money savings, a more valuable home, increased energy efficiency, and improvement to the overall comfort, health and durability of the home.
The Alliance Commission on National Energy Efficiency Policy aims to double US energy productivity by 2030, by creating stricter energy codes for buildings. The Commission created Energy 2030, a set of policy recommendations that urges policymakers, including local, state, and federal, to take action and educate the public on smarter energy use. According to the report, energy efficiency should be used as an emissions reduction strategy and if the suggestions are adopted by 2030, the policy could help cut average household energy costs.
Energy improvement companies like Home Energy Shield, work with homeowners to evaluate the areas of the home effecting efficiency, diagnose energy problems and suggest the proper improvements to help reduce energy usage, lower utility costs and improve comfort.
Home Energy Shield specializes in energy saving upgrades, including insulation services, duct sealing, home energy audits and more. They serve all of the North Georgia area, including