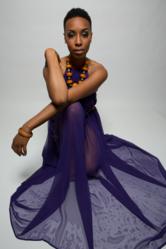 New York, NY (PRWEB) July 05, 2013
Everyone is a stylist on Shopcade, but now users can take their styling skills outside of the digital world and style actual celebrities with the launch of the "Stylist For A Day" campaign.
London and New York-based social shopping platform Shopcade is expanding partnerships beyond retail brands and merchants and giving its users the chance to fulfill a lifelong fashion dream – dressing a celebrity for an event.
For the first in an ongoing series of missions users will select the look to be worn by Grammy nominated rapper, singer and spoken word artist Carolyn Malachi for her upcoming music video.
From Monday, July 1 through July 8 Shopcade users will create a list of looks with the site's integrated fashion and accessories to serve as inspiration for Malachi's styling in the music video for her single "All Right."
"Shopcade enables people to express themselves through their favorite products and become recognized for their trendsetting skills," Head of US Partnerships Jennifer Yassen said. "We thought it would be an awesome chance for those trendsetters to elevate and showcase their skills through a real world opportunity not easily attainable."
In addition to serving as the inspiration for her look in the video the winner will also take home their winning outfit which will include a piece from partner jewelry brand Ettika.
"The relationship between a celebrity and a brand is extremely important to brands at this time," Ettika founder Joey Rafaeli said. "The tough part is maintaining a strong relationship with the celebrity and having the public view your brand and the celebrity as one, but once you have that figured out it is a sure formula for success."
More important than the prize itself is the opportunity it brings to Shopcade's fashionable users and the doors it opens in the world of social shopping for leveraging future partnerships between celebrities, brands, and budding stylists.
Shopcade's relationship with the Grammy nominated artist is a groundbreaking step in collaborative partnerships between innovators in the digital and artistic worlds.
"Authenticity is a key element of my creative process. Understanding of who fans are, where they come from, and why they make certain choices influences the way my product (my music) is positioned in the market," Malachi said. "While traditional R&D can be time-consuming, costly, and indirect, this "Stylist For A Day" partnership with Shopcade allows me to be conversant with a culture of modern, tech-savvy music lovers who express themselves through fashion - all in real time. Each individual fan's choice is considered; every voice counts. This, to me, is the highlight of our partnership."
The partnership gives the platform an opportunity to introduce itself in a different realm of media while giving the artist a unique opportunity to connect with fans through fashion and gain new ones in the process.
"We are empowering users to become trendsetters," Shopcade CEO Nathalie Gaveau said. "Her fans will be able to create a new, more personal relationship by following her, styling her and getting to see what she recommends in real time."
Shopcade users will also get to style Malachi for two more events this summer: an appearance on "The Daily Buzz" to launch her new album, Gold; and an upcoming live performance.
Malachi is an acclaimed singer, rapper and spoken word artist who earned a Grammy nomination in 2011 for "Best Urban/Alternative Performance" for her single "ORION" putting her alongside well-known artists like Janelle Monae and Cee Lo Green.