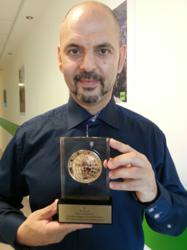 Walterville, OR (PRWEB) July 03, 2013
Daniel Estulin, award-winning investigative journalist and TrineDay author has won a Gold World Medal for his TV show, "From the Shadows." The award was given by the New York Festivals® International Television & Film Awards™.
One of Estulin's books, The True Story of the Bilderberg Group, has been translated into over 40 languages and sold over 4 million copies worldwide. Estulin is releasing a documentary based on his book this year.
His most recent book, a novel from TrineDay Fiction, Octopus Deception has been compared to the works of Robert Ludlum and John LeCarre.
Estulin lives in Europe and is available for limited interviews, please contact Kris Millegan at TrineDay.
###