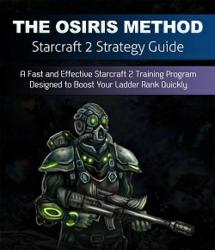 (PRWEB) July 03, 2013
OsirisMethod.com is pleased to announce the launch of a new Starcraft 2 strategy blog. This blog aims to provide players with tricks, tips, and tactics that they can use to improve their skill (and ultimately win-rate) in 1v1 ladder matches of Starcraft 2.
While The Osiris Method has been one of the most popular Starcraft 2 training programs, up until now all content was part of their official training program and only accessible to those who purchased the program. This has changed with the launch of the new strategy blog which aims to release new Starcraft 2 guides and strategies on a daily basis. These strategies are available for free even to non-members.
The new Osiris Method blog digs deep into Starcraft 2 strategies, going over the specific points of the game where players often find themselves at a disadvantage or losing a lead they had worked hard to build. As an example of the sort of strategies found on the blog, one new article goes over the best methods for using and countering the Mutalisks in the Zerg vs Zerg match-up.
The overall theme of the blog is looking for ways players can gain an advantage in Starcraft 2 match-ups. There is so much variety in a game to game basis that simply trying to discuss how to win games is not a particularly useful strategy. Instead, players can use the tips provided by the new Osiris Method blog in order to gain small advantages throughout the course of the game.
In Starcraft 2, the best players win games by slowly gaining small advantages over the first 10-15 minutes of a game and only go for a game-ending attack once they have built such a large advantage that there is no way for the player to lose. The new blog over at Osiris Method focuses on these strategies, allowing players to slowly build a lead and reliably win games rather than covering gimmicky tactics.
The new blog can be found at http://www.osirismethod.com/blog/. While the blog is new, strategies will be added for all 3 races with new posts daily.