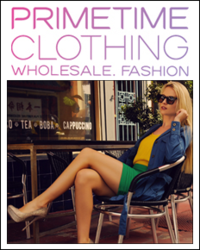 (PRWEB) July 04, 2013
Primetime Clothing has recently expanded their inventory to include wholesale purses and wholesale accessories, and has added many different new items and item categories at highly discounted prices. Clients have purchased many of the new items so far, and say they help to raise individual customer totals at checkout.
The new wholesale accessory categories are wide ranging, and include hats, scarves, key chains, sunglasses, wallets, belts, iPod accessories and hair accessories, and there are also many different styles of clutches, satchels and full sized purses newly available. Primetime Clothing executives say they aim to have a diverse range of high quality wholesale clothing and apparel items offered at low cost, and have applied these same goals in cultivating an accessories and a purse section of their inventory. Smaller items like these are important in small clothing shops because they are common impulse buys and help raise customer totals at the register. This means more revenue from each customer, and can make the difference between breaking even and making a profit for newer stores.
For more information about Primetime Clothing and their newly added wholesale purses and accessories, visit them online at http://www.primetimeclothing.com/.
Primetime Clothing
Primetime Clothing guarantees the lowest discount prices on premium wholesale fashion clothing items, accessories and more, and has over 25 years of experience cultivating an extensive inventory from hundreds of Los Angeles area manufacturers and importers. They aim to provide customers with consistently low prices, the most up to date fashions and the best customer service. Their inventory now includes junior clothes, missy, plus-size items, men's items, active wear, intimates, handbags, accessories and more.