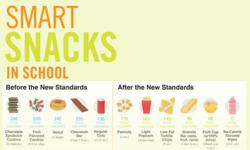 San Diego, CA (PRWEB) July 03, 2013
Balancing science-based nutrition guidelines with practical, flexible solutions that promote healthier eating, the USDA's "Smart Snacks in School" program adjusts the guidelines for foods sold at schools, including those from vending machines. Fresh Healthy Vending, the nations's largest healthy vending company, is in complete support of the initiative that will provide students with tasty, healthy choices on campus.
"Bravo to the Agriculture Department," said Alex Kennedy, CEO of Fresh Healthy Vending, "the new standards are a critical step in making the changes necessary for the health of this nation. We believe these solutions will create even more acceptance of the programs that we provide successfully to schools and other locations already."
"This decision will give our franchisees an even greater opportunity to place their machines in more schools throughout the nation," she continued, "it helps to put America's children on the right track to healthful living." Fresh Healthy Vending is unique in providing a range of products that meet and exceed the USDA standards, their machines are located throughout the U.S., Canada, Puerto Rico and the Bahamas.
Announced June 27th, this interim final rule is an important component of First Lady Michelle Obama's Let's Move! Initiative. The standards hope to change some staggering statistics: nearly one third of America's children are at risk for preventable diseases like diabetes and heart disease due to being overweight or obese.
"The new rules validate that our concept is real and works. The big win is for the kids and creating a healthier generation of Americans," said Kennedy. "Fresh Healthy Vending has a bright future and will continue with accelerated growth in support of the new guidelines."
Highlights of the "Smart Snacks in School" nutrition standards include:

More of the foods that should be encouraged, including healthier foods, more whole grains, low-fat dairy, fruits, vegetables and leaner protein.
Food items that are lower in fat, sugar, and sodium and provide more of the nutrients needed.
Targeted standards allow variation for elementary, middle and high school age groups.
Reasonable limitations on when and where the standards apply. Fund-raisers, bake sales and foods sold at after-school events will not be subject to the requirements.
Many schools have already implemented voluntary standards for healthier choices with little or no loss of revenue to suppliers; some schools have reported an increase in revenue after introducing more nutritious foods. Schools and food and beverage companies will have an entire school year to make the necessary changes to comply with the guidelines.
"We have over 1500 machines in schools that are doing exceptionally well for our franchisees. It will be easier to acquire additional school contracts with the new national guidelines, and we won't be competing for space with machines that offer "junk" food," CEO Kennedy stated. "Securing locations for our new corporate-owned machines here in Southern California will be easier too, as we plan our expansion to operate on an even larger scale."
Fresh Healthy Vending provides opportunities that can be described as "a cause beyond financial benefit," part of a socially-responsible lifestyle choice that helps others; franchisees are an integral part of the business. Machines are stocked with all-natural, organic and preservative-free snacks and beverages — all nutrient-rich selections — the 2300 choices available include gluten and nut-free products.
Keeping minds and bodies in better shape are part of the directives for Fresh Healthy Vending, the first franchiser of healthy vending machines. The company leads with first-to-market in products and equipment and uses the latest vending technologies while offering the most comprehensive franchisee support structure.
About Fresh Healthy Vending
Fresh Healthy Vending has over 200 franchise partners and 2300 healthy vending machines placed throughout the U.S., Canada, Puerto Rico and the Bahamas. Fresh Healthy Vending is dedicated to combating obesity by providing nutritious foods from healthy vending machines.
About FreshandHealthy.org
FreshandHealthy.org is the only dedicated resource available to locations around the world seeking a healthy vending program. The program offers financial grants and incentives to locations that qualify. Visit http://www.freshandhealthy.org to learn more.
For more information about Fresh Healthy Vending franchises, visit http://www.freshvending.com. To inquire about receiving a free Fresh Healthy Vending machine, visit http://www.freshandhealthy.org or call toll free 888-902-7558.