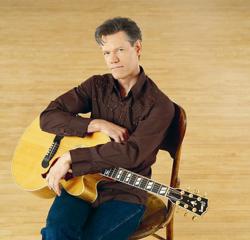 He did one of his best shows to date. Would recommend seeing one his shows to everyone who is down-to-earth country fan.
branson, missouri (PRWEB) July 03, 2013
Branson Ticket & Travel - Randy Travis will perform live at The Andy Williams Moon River Theater October 11 & 12, 2013.
With lifetime sales in excess of 20 million, Randy Travis is one of the biggest country record sellers of all time. His honors include seven Grammy Awards, 10 Academy of Country Music statuettes, 10 American Music Awards, two People's Choice awards, seven Music City News awards, eight Dove Awards from the Gospel Music Association and five Country Music Association honors. In addition, three of his performances earned CMA Song of the Year honors, "On the Other Hand" (1986), "Forever and Ever Amen" (1987) and "Three Wooden Crosses" (2003).
CLICK HERE to Purchase Tickets Online for this show.
To date, he has 18 No. 1 singles, 29 top-10 smashes and more than 40 appearances in feature films and television shows to his credit. Ten of his albums are Gold Records. Eight are Platinum. Two have gone Double Platinum. One is Triple Platinum and another is Quintuple Platinum. In 2004, Randy was honored with his own star in the Hollywood Walk of Fame. He has been a member of the cast of the Grand Ole Opry since 1986.
For more information Click Here or call 1-800-432-4202.
Currently, Randy Travis is celebrating the 25th anniversary of his award-studded career with a stellar cast of collaborators on a new cd. Joining him on his Anniversary Celebration CD are such members of the Country Music Hall of Fame as Willie Nelson, Kris Kristofferson, George Jones and Ray Price. Current Nashville hit makers Zac Brown Band, Carrie Underwood, Kenny Chesney, Tim McGraw, Josh Turner and Brad Paisley are also singing with him on the collection. Rock 'n' Roll Hall of Fame member Don Henley is on board, as are such up-and-comers as country's James Otto and Jamey Johnson, pop's Kristin Chenoweth and Irish tenor Eamonn McCrystal.
Randy's fellow country superstar Alan Jackson has written several songs with him, so his presence is a natural. Revered vocal stylists such as Shelby Lynne, John Anderson, Gene Watson and Joe Stampley participate, as do Randy's fellow Grand Ole Opry cast members Lorrie Morgan and Connie Smith.
The event that inspired this gathering of greats is singular and significant. The 1986 release of the Randy Travis LP Storms of Life was a watershed moment in American music history. The album, which has sold nearly four million copies, was a cornerstone of the "new traditionalist" movement in Nashville. Jackson, Paisley, Chesney, McGraw, Turner and Underwood were all inspired by it.
Randy Travis is a country and gospel music singer whose distinctive baritone and traditional style have made him a star since the 1980s. In the late 1970s he began making demo tapes and recorded a few singles, and in 1981 he moved to Nashville, Tennessee. After a few years as a cook and singer at night spot, he released an independently produced live recording to capitalize on his increasing fan base. His first record on a major label, Storms of Life was released in 1986, and Travis toured the United States on the strength of the hits "On the Other Hand" and "1982." Since then he has sold millions of records and won numerous awards, including Grammys for Best Male Country Vocal Performance (1987 and 1988), Best Country Song (1988's "Forever and Ever, Amen") and Best Southern, Country or Bluegrass Gospel Album (2004's Rise and Shine). Travis is known as a country crooner in the style of Lefty Frizell and George Jones. In recent years he has recorded bluegrass and gospel albums that have had great success, including the hit and 2003 CMA Song of the Year, "Three Wooden Crosses. With lifetime sales in excess of 20 million, Randy Travis is one of the biggest country record sellers of all time.