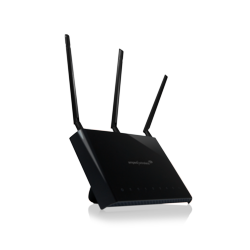 Cutting-edge 802.11ac technology packed into the RTA15 gives it the ability to stream high-quality media at faster speeds to multiple devices at once, with ease.
Chico, CA (PRWEB) July 08, 2013
The new 802.11ac standard has evolved Wi-Fi technology to allow multiple users the ability to download and stream HD or 4K media to different devices simultaneously on the same Wi-Fi network. Amped Wireless, the leading manufacturer of award-winning high power, long-range wireless communication products for the home and office, announced today it is now shipping the industry's first long-range 802.11ac router, the RTA15.
A high power 700mW dual band, 802.11ac Wi-Fi router, the RTA15 features three high gain, 5dBi antennas and ten total power amplifiers, the most ever used in an Amped Wireless Wi-Fi product. The amplifiers include two 2.4GHz 700mW amplifiers, four 5.0GHz 700mW, 2-Stage amplifiers, and four advanced, low noise amplifiers. The cutting-edge technology packed into the RTA15 gives it the ability to stream high-quality media at faster speeds to multiple devices at once, with ease.
The RTA15 includes a USB port for file sharing and five gigabit wired ports for connecting to a broadband network and attaching additional wired devices. The RTA15 includes an updated user interface, premium software features such as guest networks, adjustable Wi-Fi coverage controls, parental security and support for IPv6 Internet connections.
The RTA15 802.11ac router delivers industry leading output power and Wi-Fi coverage. As a result, the RTA15 provides up to three times greater coverage than standard 802.11ac routers.
"By combining our award winning high power technology with the horsepower of 802.11ac, we are able to provide fastest speeds at the greatest distances. This means faster streaming, downloading and web browsing with your Mac or PC laptop or desktop throughout your entire home, backyard or office," said Jason Owen, CEO of Amped Wireless. "With 802.11ac standard ratifying in 2013, consumers can have a more dynamic wireless network, an Amped Wireless 802.11ac based-network will deliver industry leading coverage with up to three times the speed and range of past solutions."
All Amped Wireless products include Wi-Fi Analytic Tool Apps that provide advanced software application for Android and Windows devices in order to assist in analyzing and optimizing Wi-Fi networks for maximum speed and coverage. All Amped Wireless products are backed by industry leading, US based, in-house technical support provided by Amped Concierges.
The RTA15 has a retail price of $189.99 and is available for pre-order from the Amped Wireless store and will ship to customers July 15th. It will be available at major brick & mortar retailers and online retailers in mid to late July. For more information and purchasing, visit: http://www.ampedwireless.com/products/rta15.html.