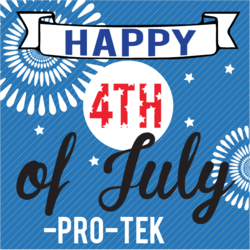 With over 30 years under our belt we have been lucky to have the support and loyalty of our customers.
Glens Ferry, ID (PRWEB) July 04, 2013
Pro-Tek Chemical is releasing a promotion for this weekend's Independence Day festivities. The promotion will begin today, July 3 and continue on for the rest of the month ending July 31. Pro-Tek Chemical encourages everyone to take advantage of this offer as soon as possible.
Pro Tek Chemical would like to say Happy Birthday, U.S.A and thank all of the wonderful customers across the country. The Independence Day free shipping promotion is for a limited time only.
Due to amazing support from our customers, the company is able to set forth deals like these. This shipping offer is a small gesture that Pro-Tek Chemical hopes will come as a delight to our supporters. Participating in these types of promotions is the company's way of saying thank you to customers for their loyalty and sustenance.
This year, Pro-Tek Chemical has seen an increase in sales and they would like to give back to the community this way. Company Owner Denver Price says, "We try to give back to our customers whenever we can." Price continued on saying that he "wants to let them know that they are appreciated...with over 30 years under our belt, we have been lucky to have the support and loyalty of our customers."
This promotion will continue through the month of July. All orders except for the Pro-Tek five-gallon bucket and the 55-gallon drum will require no charge on shipping. Shipping must be within the continental United States.
About Pro-Tek Chemical
Located in beautiful Glens Ferry, Idaho, Pro-Tek Chemical has been in business since 1985. This chemical solution is an all-purpose, eco friendly product that is safe for pets and children. It is a non-toxic solution that is great for within homes and even outside. Pro-Tek does not contain VOCs, phosphates, ammonia, SLS, bleach, or butyl. The formula was created to keep waterways and homes clear of toxic chemicals.