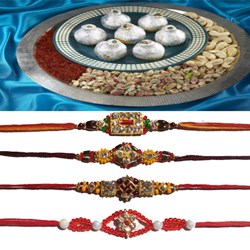 Send Rakhi To USA & UK
Ahmedabad, India (PRWEB) July 05, 2013
SendRakhitoIndians.com has come up with diverse rakhi gifts to convey the divinity and sentiment attached to the Raksha Bandhan festival making sure no sister misses her brother during the occasion, even when miles apart. The decorated thread or the Rakhi as it is known in India can be sent through the site to brothers who are residing anywhere in the world, especially in the US and the UK.
One can easily find the right rakhis through the site at affordable rates. Also, one can customize every rakhi with additional gifts which are then added to the shipment at nominal prices. For this, one does not have to face the hassles of actually dealing with sending them through post or international couriers. One need not worry if the gifts would reach the intended person or not since the site promises to send the deliverable before the festival, especially within 2-3 business days.
Says Nirmala Thakur, a resident of Surat, Gujarat, India, "I found this site when searching for the various avenues through which I can send gifts to my brother. Unlike other sites, SendRakhistoIndians.com was hassle-free and fantastic to use. What's more, my brother called me up after four days and thanked me for his timely rakhi gift. Thanks to the site, I could convey my love for my brother in a timely fashion."
One can also send sweets to one's brother along with chocolates and gift hampers which are specially compiled for the occasion. A brother can also send return Rakhi gifts to India as a means of saying "thank you." There are several Rakhi Thalis too which can be parcelled and sent to one's loved ones before the Rakhi festival so that it is delivered before the auspicious day.
Some of the Rakhi gifts which one can give include Dryfruits which can be chosen as per one's preferences and budget. Most of the dryfruit packages cost in the vicinity of $10 which is quite reasonable considering one can customize the gift as required. Local sweets and eatables can also be sent with combo packs which include a set of rakhis, dryfruits and packs of eatables.