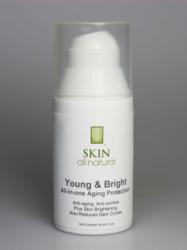 "life is too short to spend hours caring for your skin and fussing over multiple products"
Apex, NC (PRWEB) July 05, 2013
Skin care consumers looking for a younger looking skin with a special glow are now spared from the confusion and clutter of multiple products. No need to use different products for day time and night time, for age spots, for wrinkles, for dark circles, for puffiness, for hyper pigmentation, for moisturizing etc... Young & Bright™ simplifies the entire regimen. "Life is too short to spend hours caring for your skin and fussing over multiple products. That's why we formulated a simple all-in-one product" says Sudhir Shah, the founder and chief scientist at Choice All Natural, Inc.
Young & Bright™ boasts an innovative approach to skin care formulation. It creates a delicate balance and synergy between 100% natural full spectrum bio-active ingredients. Also this holistic approach to skin care makes it uniquely superior, as it is not only the safest product but also effective in providing a very powerful skin rejuvenation naturally.
Unlike most products that are 70% water, Young & Bright™ formulation include aloe juice as the primary ingredient, which provides soothing anti-inflammatory and scar reducing properties. Free of bleach or hydroquinone, Young & Bright™ utilizes clinically proven botanical ingredients formulated to work at the molecular level to achieve desired results.
Choice All natural, Inc. is a small manufacturer of truly (100%) natural consumer products that uses whole botanical ingredients. Located in Apex, NC, the company is committed to providing a real choice to consumers looking for products supporting their healthy, chemicals free life-style. All their products are cruelty free and vegan.