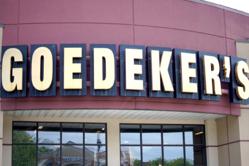 Consumers are moving to mobile...
Ballwin, MO (PRWEB) July 04, 2013
Mobile devices are everywhere these days and checking email on them has become standard practice. Noting this trend, Goedeker's has made all email newsletters mobile friendly.
"We didn't want to be left behind," says Steve Goedeker, owner of Goedeker's. "Consumers are moving to mobile, so interacting with our newsletters had better be easy and convenient for mobile users."
To see examples of Goedeker's newsletter or to subscribe, visit Goedeker's HomeLife blog.
About Goedeker's
For more than six decades, Goedeker's has set the standard for excellence in the St. Louis retail appliance market. Since expanding online, Goedeker's has brought the same tradition of excellence to the nation. Goedeker's has continued to grow offering furniture, mattresses, and plumbing supplies, in addition to major appliances. Discover special appliance package deals, GE Appliances and real customer reviews at Goedekers.com.