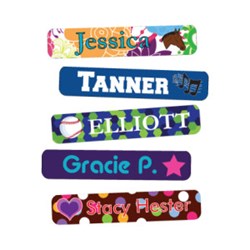 We have seen quite an increase in campers purchasing name labels over the last few years.
Boyd, Wi (PRWEB) July 10, 2013
In a review of 1000 packing lists that summer camps give to their campers, 85% stress the point of labeling everything. It stands a much better chance of returning home when it's labeled. In this day and age, there are plenty of different kinds of labels out there on the market, made for labeling pretty much anything!
For labeling camp clothes, iron-on clothing name labels are a very popular way to go. Labels that iron onto clothing can be found in a slight range of prices, anywhere from around $8.00 to $20.00. Clothing labels are made of different materials and printed in different ways so some are more expensive than others.
Another popular way to label clothing for camp is with a clothing stamp. With a stamper, an ink pad, and the push of a hand, the fast, crisp, clean black label appears on any light colored clothing. It's by far the quickest method to label clothing.
Of course, there is one other way to label clothing: the manual way. Get a set of laundry markers to label belongings with initials or find some other, unique way to label clothes. For any dark clothes, Sharpie's white paint marker will get the job done.
For any items that are sure to get wet during a summer camp stay, waterproof name labels work great. Make sure not to drink out of someone else's water bottle. Definitely don't use someone else's toothbrush! There won't be any confusion with a waterproof sticker.
"We have seen quite an increase in campers purchasing name labels over the last few years," says Mark Sieglaff, the Vice President of Everything Summer Camp. Everything Summer Camp is a leading summer camp online outfitter with a wide variety of name label choices. They started 26 years ago making durable footlockers and since then have expanded into a one-stop-shop for summer camp gear.
About Everything Summer Camp
Everything Summer Camp has been helping kids get ready for summer camp since 1987. Their wide selection of camping gear includes camp trunks and other camping supplies. Top selling items include water bottles, cot-sized bedding, rain jackets, insect repellent, iron on labels, and more. Known for their customer service and fast shipping Everything Summer Camp is recommended by more camps than any other camp outfitter.
Visit http://www.EverythingSummerCamp.com to learn more about camp footlockers, name labels, duffel bags, and camping supplies.