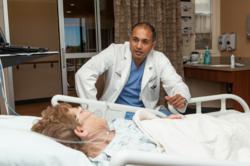 Timely access to emergency cardiac care and survival is partly dependent on access to services and technology.
Aberdeen, SD (PRWEB) July 03, 2013
Sanford Aberdeen interventional cardiologist Puneet Sharma, MD, recently made history by utilizing the CorPath Vascular Robotic System to provide a procedural first in the nation. For the first time in the United States, Dr. Sharma utilized the vascular-robotic system with an acute heart-attack patient faster than the national treatment time standard.
"The Cor Path Robotic Angioplasty was performed on a patient who had experienced a heart attack and presented to the Sanford Aberdeen emergency department," Dr. Sharma said. "As physicians, we often refer to our process in terms of the 'door to balloon' time to indicate the time frame from when the patient presents with a heart attack to the completion of the cath process. The 'door to balloon' time for this acute heart attack patient's procedure was completed at Sanford Aberdeen Medical Center in 68 minutes. The acceptable nationwide standard for 'door to balloon' time for a patient experiencing a heart attack is 90 minutes to prevent further heart damage."
The CorPath 200 robotic-assisted system was recently installed at Sanford Aberdeen Medical Center after receiving funding from The Leona M. and Harry B. Helmsley Charitable Trust to advance heart care for the region. The grant supported the purchase and installation of the only Food and Drug Administration (FDA) cleared robotic-assisted technology to aid interventional cardiologists in placing stents and balloons in patients with coronary artery disease (CAD).
Thanks to the generous donation, Sanford Health implemented two CorPath 200 robotic-assisted systems, one installed in the Sanford Heart Hospital in Sioux Falls and the other at the Sanford Aberdeen Medical Center. With this installation, Sanford Health became the first in the region to have this technology and only the fifth and sixth locations in the United States.
"As shown with the latest procedure, this technology improves rural access and quality as fewer patients will need to travel out of this area for advanced specialty care," said Dr. Sharma. "Heart disease remains one of the leading causes of death for men and women in South Dakota. Timely access to emergency cardiac care and survival is partly dependent on access to services and technology. The development of the CorPath 200 system and the current and future advancements it holds for our patients at Sanford Aberdeen is a great example of Sanford Health's commitment to this region."
During a traditional catheterization procedure, physicians utilize x-ray guidance to manually push a catheter through the coronary arteries. The CorPath 200 System by Corindus Vascular Robotics enables physicians to have exact robotic assisted movements during these critical heart procedures. The physician uses a joystick to perform procedures, precisely advancing catheters, angioplasty balloons and stents to clear the blockage and restore blood flow.
It gives the physician improved visualization and reduces procedure time. Dr. Sharma also noted that direct patient benefits of utilizing the robotic system include less x-ray exposure and contrast and greater precision in placing the stent.
About Sanford Aberdeen
The Sanford Aberdeen Medical Center is a new state-of-the-art hospital which opened in 2012 to meet the growing health care needs of the Aberdeen region and area communities. The 48-bed medical center is directly attached to the established multi-specialty Sanford Aberdeen Clinic. Sanford Aberdeen Medical Center is a full service regional hospital that includes adult and pediatric care, emergency/trauma, labor and delivery, critical care, cardiac cath lab, inpatient and outpatient surgical and procedural areas, inpatient and outpatient therapies. For more information, please visit sanfordaberdeen.org.
About The Leona M. and Harry B. Helmsley Charitable Trust
The Helmsley Charitable Trust aspires to improve lives by supporting effective nonprofits in a variety of selected areas. Since 2008, when the Trust began its active grantmaking, it has committed more than $800 million to a wide range of charitable organizations. The Trust's Rural Healthcare Program funds innovative projects that use information technologies to connect rural patients to specialty and emergency medical care, bring the latest medical therapies to patients in remote areas, and provide state-of-the-art training for rural hospitals and EMS personnel. To date, this program has awarded more than $172 million to organizations and initiatives in the upper Midwest states of North Dakota, South Dakota, Nebraska, Wyoming, Minnesota, Iowa, and Montana.
###