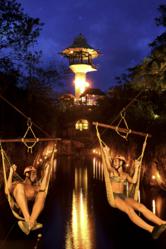 Xplor Fuego
Cancún Quintana Roo, México (PRWEB) July 08, 2013
With a capacity for 400 visitors daily, Xplor by Experiencias Xcaret, the most successful adventure Park in Cancun and Riviera Maya in Quintana Roo State, offers you a new experience that makes it possible to enjoy both sundown and night time, when the jungle comes alive and paves the way to an unparalleled adventure that awakens the primitive side of all those who dare.
In Xplor Fuego, the sounds of the jungle will bring each visitor's senses to life and keep them alert so that it is possible to venture into a new world full of adventure where the sunset, the night and fire will be your companions.
What is offered to the tourist is truly inviting: Witnessing the sunset, venturing into the darkness of the jungle and plunging into the refreshing waters of an underground river, gazing into the bonfires that will stir up your inner fire, sharing time and space with the night fauna and letting the light of the moon and the stars guide you in the shadows. The invitation is unique: "Ignite your life with Xplor Fuego, a challenge in the darkness as you could never have imagined."
The stage for this groundbreaking adventure will be Xplor´s jungle, with the added ingredients of the shadows of the night and the fire found in torches, bonfires and fireflies, which will light up caves and paths, bridges and bodies of water.
During the summer high-season, Xplor Fuego will be available for visitors from Monday to Saturday starting on July 1st until August 18th. Subsequently, it will open every Wednesday starting on August 21st and from then onwards as permanent attraction. Opening hours will be from 5:30 p.m. to 11:30 p.m.
The Amphibious Vehicles offer visitors the chance to drive through a 3.4-mile circuit to explore dry and wet caves, hanging bridges, dry and water filled river crossings, a cascade and a panoramic view from the highest point in the Park.
The zip-lines at Xplor Fuego in turn offer nine flights, two hanging bridges and water landings. In the rafts, explorers will be able to paddle through 580 yards of dazzling underground caves, while during the river swim, they have the possibility of enjoying 437 yards of fresh waters. They can also fly on two 196-feet long hammock zip-lines with water landings.
Admission to Xplor Fuego also includes a buffet with hot dishes, a salad station, desserts, cold and hot drinks, bread and cookies.
For further information:
Iliana Rodríguez
Chief Communications Officer
irodriguez(at)experienciasxcaret(dot)com.mx
Mobile: (998) 845-5644