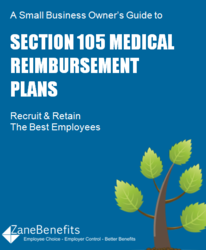 Park City, UT (PRWEB) July 03, 2013
Today, Zane Benefits, the online alternative to group health insurance, published a new guide on Section 105 Medical Reimbursement Plans.
According to Zane Benefits' website, the new eBook helps small business owners recruit and retain employees using a Section 105 Medical Reimbursement Plan.
Offering employees health insurance is vital to recruiting and retaining key employees. This is especially true for small businesses.
Less than 50% of small businesses nationwide offer health insurance due to cost or minimum participation requirements of group health insurance. And, they don't know an alternative small business health insurance option exists.
Section 105 Medical Reimbursement Plans, specifically Health Reimbursement Arrangements, provide small businesses a new tool to offer tax-free health benefits without the cost or complication of group health insurance.
The new eBook provides small business owners an executive-level overview to Section 105 Medical Reimbursement Plans.
Click here to read full article.
--
About Zane Benefits
Zane Benefits was founded in 2006 to provide a revolutionized SaaS (Software-as-a-Service) administration platform ("ZaneHRA") for Health Reimbursement Arrangements (HRAs) and defined contribution health care. The flagship software provides a 100% paperless administration experience to small businesses and insurance professionals that want to offer better health benefits without a traditional group health insurance plan at lower costs. For more information about ZaneHRA, visit http://www.zanebenefits.com.