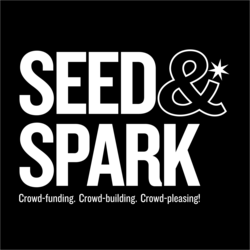 "We called upon the Seed&Spark community and the community answered. And we could not be more grateful and humbled," says Emily Best, Founder and CEO of Seed&Spark.
New York, NY (PRWEB) July 05, 2013
Seed&Spark, the world's first crowd-funding and digital distribution platform made just for independent film, is proud to announce the successful completion of the $32,500 crowd-funding campaign for Seed&Spark on Seed&Spark. The campaign ran for 30 consecutive days, ending on June 29, 2013.
Thanks to a huge outpour of support from the Seed&Spark community, Seed&Spark was able to successfully reach their goal of raising $32,500 in cash, goods and services in order to help further grow and shape the platform. In total, Seed&Spark raised $32,966 in cash, goods, and services from 198 supporters and 250 followers. These funds will go toward improving the site's functionality and user experience for filmmakers and audiences alike. Planned site enhancements, such as how-to video training modules and site intro wizards will begin to be rolled out over the next couple of months. The enhancements are aimed at helping all Seed&Spark users learn quickly and deeply about Seed&Spark's robust tools to make, watch, and share independent films.
"We called upon the Seed&Spark community and the community answered. And we could not be more grateful and humbled," says Emily Best, Founder and CEO of Seed&Spark. "We promised to put the contributions toward developing a more supportive suite of tools for the Seed&Spark platform, and this process has already begun. We learned so much about crowd-funding by using our own tool to do it, and we're in the process of implementing many changes and new features as a result of our own experience. We have an aggressive work schedule ahead of us that will make sure that these site improvements are rolled out as soon as possible. Since we're working in collaboration with such an engaged community, we're confident every step will get us closer to our goal of creating a sustainable future for independent filmmakers and a better way for audiences to discover, support, and watch what matters to them."
Vincent Laforet, director, photographer, and Pulitzer Prize winner, had this to say about Seed&Spark: "One of the big lessons in life is that it's not always the "Big" solutions that solve "Big" problems, sometimes it's a very bright idea that comes from a small group people at just the right time. Seed&Spark, I think, is pretty dead on... a start-up company that aims to truly embrace the idea of community in very pertinent ways. Crowd-funding, and new ways of distribution are going to be key unless you really want to go see Iron Man XIX a decade from now."
Along the way, all supporters of the campaign were rewarded with personalized and public thank you messages on either Facebook or Twitter. On top of the shout-outs, depending on the amount contributed, supporters will be receiving incentives that include invitations to events, Seed&Spark filmmaker DVDs, a dinner with a Seed&Spark member cooked by a Michelin-rated chef, and even a chance to be a star in a video. For example, top contributors, $100 or more, will receive an invite to the New York Benefactors Party where they can watch films and mingle with filmmakers.
The Seed&Spark site has more than 4,300 users. To date, 20 of 34 completed campaigns on the site have been successfully funded, equating to more than $350K in cash, goods, and services raised on the Seed&Spark site. The company has partnered with a number of like-minded film organizations including Film Independent, Big Fat Empty Wallet, Dogfish Accelerator, Nice Dissolve and Bitch Flicks to empower filmmakers and connect them with their audiences.
Seed&Spark is hosting a bi-weekly #filmcurious chat to share best practices for independent film and crowd-funding. To register for the next chat, follow @seedandspark on Twitter and look for the #filmcurious hashtag.
About Seed&Spark
Seed&Spark is building a truly independent filmmaking community where filmmakers and audiences come together for crowd-funding, production, and streaming distribution. Every time an audience member supports the making of a moving picture project (funding, following, sharing) they earn "Sparks" which can be redeemed to watch movies on the streaming platform.
Supporting films lets you watch more films: It's the new ecosystem for filmmakers & audiences, and…that's it! For more information, go to http://www.seedandspark.com and http://www.facebook.com/seedandspark, or follow us on Twitter at @seedandspark.