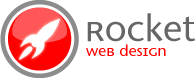 Rocket Web Design can generate leads and sales with their professional marketing strategies.
Salt Lake City, UT (PRWEB) July 03, 2013
How can RWD help get increased website traffic to their customer's sites?
Through heavy research RWD has found effective ways to increase the visitors to their customer's websites. Along with their services for custom web designs, they are able to increase rankings in Google and other search engines through a strong SEO platform which in return will boost the traffic to their clients websites. By providing more visitors to their customers sites, RWD has been able to generate more leads and increase sales as well. When a customer of RWD's signs up for an SEO package, they will also receive a new logo, custom designed to fit their business.
How can RWD generate more sales and capture more leads with their increased website traffic services?
With the services that RWD can provide for bringing in more visitors to a site, this also goes hand in hand with generating more leads and increasing sales. With their custom web design services, they are able to design pages that have been proven to have high conversion rates. These pages are designed to target the right customers by providing helpful information, use calls to actions such as: e-mail forms and phone numbers also they will display high quality graphics and images to improve the overall look of the page. By doing extensive research, RWD has found that promoting a business through social media sites has been proven to help a company grow and could potentially create a large increase in sales. RWD offers services to get increased website traffic for their customers by using the top social media websites.
What benefits will a business owner receive when signing up with RWD?
Being at the top of the list for professional SEO companies in the United States, RWD has made a name for themselves in many different internet marketing categories. Along with their services for designing professional looking websites, a customer will receive a new logo to fit their company, the option to sign up and receive strong SEO results from their variety of SEO packages, they will be able sign up for a pay per click campaign (PPC) and have more leads generated for them to improve on sales. All of these services are available to customers who sign up with RWD to get a custom web design for their business. RWD offers many different services that will bring in more traffic and generate more leads and create more sales for any business.
For more information on RWD, visit them at their website: http://www.rocketwebdesign.com/.