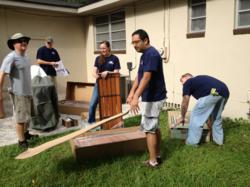 I knew I wanted to get involved with my fellow veterans, and FFG encouraged me. When I called the Disabled American Veterans and asked what they needed, the answer was volunteers.
Jacksonville, Florida (PRWEB) July 09, 2013
Foundation Financial Group supported Disabled American Veterans, an organization that helps Jacksonville's veterans and families receive essential benefits and assistance. Foundation Financial volunteers donated time, energy, and patio furniture to assist the DAV with maintaining and improving its chapter location.
"On behalf of the chapter, I want to thank Foundation Financial Group so very much for everything that you all have done for us this year, last year, and the year before," said Robert Young, DAV Chapter Commander. "I remember in 2010, when we painted this building in record time together: started at 10 in the morning and finished by lunch. And I'd like to say, I really appreciate that FFG is still coming back to help us. Thank you again."
Employees from Foundation Insurance Services, Foundation Retirement Services, and FFG's support teams spent a Saturday at the DAV's Jacksonville Chapter location. They donated and assembled patio furniture. FFG volunteers brought edgers, clippers, and other gardening tools from their homes to help the DAV sustain the landscaping FFG completed in 2012. The corporation plans to continue ensuring Jacksonville's DAV building can be enjoyed by all who utilize it.
"Having served in the military, I have seen friends give life and limb for their belief in freedom for our country and the world," said Foundation Financial Group Event Coordinator Tanya Mauro. "I knew I wanted to get involved with my fellow veterans, and FFG encouraged me. When I called the Disabled American Veterans and asked what they needed, the answer was volunteers. So, my coworkers and I share our skills and energy each year with the DAV, and we have a blast helping them out."
The National Order of Trench Rats surprised FFG volunteers on Saturday afternoon by presenting Mauro with a plaque that commemorates Foundation Financial Group's commitment to Disabled American Veterans. Imperial Rat Albert Sorrentino traveled 200 miles to meet Foundation Financial Group's employees and thank them in person. Named after the rats that infected soldiers with disease in the trenches during World War I, the NOTR is a secret organization that selects only the most active and dedicated DAV members.
"Foundation Financial Group is honored to receive recognition by the Trench Rats for supporting the DAV and our nations' forgotten warriors," continued Mauro, whose father retired after 43 years of decorated service. "We are so touched by the thoughtful gesture and inspired by what the DAV and NOTR do. These organizations take care of America's veterans, offering them a special camaraderie that can't be given by those who have never experienced war or military service. You can't imagine how much their work means to our veterans until you see the Disabled American Veterans and the National Order of Trench Rats in action."
Disabled American Veterans has been empowering veterans to lead healthy and successful lives after concluding their military service. The organization provides free professional assistance to all veterans and their families in obtaining benefits from the Department of Veterans Affairs (VA). The DAV also advocates for veteran rights on Capitol Hill, aiming to expedite acceptance of emerging medical conditions. Each year the nonprofit provides assistance with more than 300,000 claims for VA benefits throughout the United States and Puerto Rico.
About Foundation Financial Group
Foundation Financial Group is a multibillion dollar financial services corporation. FFG offers its customers Best in Class service through its Insurance, Retirement, and Mortgage Services. Named one of the fastest growing financial companies in the country by INC magazine, FFG has continued to grow its nationwide presence with over 100,000 new customers per year in 39 states. In addition to the value that Foundation Financial provides every customer, it is also dedicated to its communities and the people who live in them. Through a vast array of philanthropic endeavors the company not only provides significant monetary donations but also fosters a workforce environment that encourages all team members to personally make a difference. Foundation Financial is committed to its strong focus on customer service and community investment as it continues to grow and compete with the largest financial institutions in the world.
Foundation Financial Group reviews all public relations inquiries. For additional information, interview and image requests, contact the Foundation Financial Group Public Relations Team.