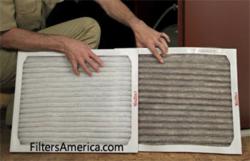 Homeowners with allergies have opted for higher efficiency filters
Huntley, Il (PRWEB) July 09, 2013
When that summer heat bears down, we appreciate the comfort of our indoor air conditioning even more. Running the A/C can get expensive however there are some simple steps you can take to help control costs.
The first method is simply raise the thermostat. Raising the thermostat by 2-3 degrees can provide substantial savings. Secondly, change the filter! This is one maintenance item that gets overlooked. When the air conditioner is running, air is constantly circulated through the filter. Clogged filters reduce the amount air moving through your system which places increased stress on the blower motor which can cause premature failure of your equipment. Changing the filter is an easy do-it-yourself project.
Changing the filter can be as simple as removing the old filter and inserting the new one, paying attention to the air flow direction arrow on the new filter. Some houses can be more challenging especially homes that use return grill filters located in high ceilings and may even have different filter sizes. Some of these homeowners have removed the filters in those ceiling grilles and installed a high efficiency whole house air cleaner to their air handler. This makes filter changing easy and improves your indoor air quality. Generally, 1" filters should be changed monthly and the high efficiency filter every 6-12 months. According to Keith Kubik, the Vice-President of Marketing for FiltersAmerica.com, "Many homeowners with allergies have opted for higher efficiency filters. Whatever the size, style or manufacturer, FiltersAmerica.com is the one-stop-shop for indoor air quality products for consumers. We buy in volume and pass the savings on to the consumer with delivery direct to their doorstep."
Another method to realize savings on your air conditioning costs is to have your air conditioner system checked by a licensed HVAC professional at the beginning of the cooling season.
These three simply can add up to substantial saving during the length of the cooling season.
More tips and how to's can be found at http://www.FiltersAmerica.com/how-tos/.