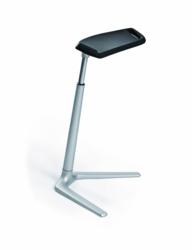 "This seating option is light, allowing it to be easily moved and has a space-saving and sleek design, while providing a stable base."
Bowling Green, OH (PRWEB) July 09, 2013
BioFit, a global leader in ergonomic seating and furnishing options, is pleased to announce the expansion of its breakthrough bimos by BioFit seating collection. Production of Fin, a revolutionary seating option for standing work, is now underway following a terrific response at NeoCon 2013. Fin helps alleviate the physical strain on those whose work requires standing a majority of the time—providing benefits that can help improve work concentration and decrease physical strain.
Fin is an ideal seating option for industrial and laboratory settings, for it takes 60% of body weight off the legs and feet. This helps alleviate physical stress while providing comfort for the user. Fin also allows for flexibility in movement, with a seat that can swivel up to 20 degrees. This freedom of movement is supported by a stable base and glides that maintain the stability of the chair as the seat moves. And the glides are interchangeable based on the kind of flooring, allowing for greater flexibility in different workplaces. Fin also includes easy height adjustment, along with ergonomic features like an inclined column and extra-wide seat.
Ed Metzger, president of BioFit, notes that Fin improves upon existing sit/stand chair technology. "This seating option is light, allowing it to be easily moved and has a space-saving and sleek design, while providing a stable base. Fin can help improve the comfort of employees in multiple workplace settings," Metzger says.
Ergonomic standing work options can help decrease cardiovascular issues caused from standing for prolonged periods, along with better protecting musculoskeletal systems. These improvements can help decrease employee injuries, while also promoting increased productivity.
Headquartered in Germany, bimos is Europe's leading designer and manufacturer of specialized seating solutions. Their corporate philosophy is based on combining the latest research and technology with traditional craftsmanship to provide seating that meets the specific needs of individual companies. As an Interstuhl brand, bimos is backed by decades of development and production experience.
Located in Bowling Green, Ohio, BioFit Engineered Products is a leading manufacturer and global provider of LEED-compliant ergonomic chairs and stools, GREENGUARD-certified mobile tables, carts and accessories for healthcare, education, laboratory, industrial, technology, and office environments. For more information, visit http://www.biofit.com or call 800.597.0246.