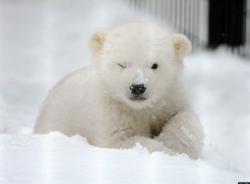 "I am overjoyed to support a local treasure like the zoo and the animals cared for there."

William Mattar
William Mattar Law Offices
Buffalo, New York (PRWEB) July 05, 2013
William Mattar Law Offices has expanded on their motto "Helping people, it's what we do" by reaching out to a baby polar bear this month. The bear cub, Kali, was rescued in Alaska earlier this year and is now at the Buffalo Zoo. The personal injury firm made a cash donation to the zoo for the bear.
Prior to Kali's arrival in Buffalo, the zoo had an existing polar bear cub named Luna. The coming of Kali has enormously benefitted both cubs as they learn to socialize like bears. The Buffalo Zoo was excited to receive the young polar bear citing rescued cubs as one of the reasons for building the new world class Artic Edge habitat. The money donated by the car accident lawyer William Mattar will go specifically to benefit the polar bears.
William Mattar Law Offices is a local law firm with a focus on auto accidents. The firm makes it a priority to better the communities it operates within. To learn more about how William Mattar Law Offices helps clients and people in the community, visit http://www.WilliamMattar.com.