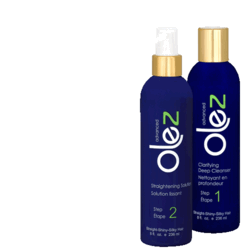 Boca Raton, FL (PRWEB) July 09, 2013
Boca Cosmetics Group, manufacturers of the most innovative hair care systems in the industry, announces the launch of Olez Advanced Smoothing System, the most effective, color safe, toxin and restriction-free smoothing system to date.
Olez Advanced contains Synergistic Blending Technology which compounds exotic ingredients like coconut, Inca and Quinoa oils extracted from the Amazon Rain Forest, with amino acids and nutrients. This allows for the deep absorption of the treatment into the hair follicle during application. Once absorbed, Olez Advanced is shampooed BEFORE blow-drying and sealing with a flatiron, which dramatically reduces the styling time and eliminates fumes, smoke, color oxidation and waxy buildup.
Olez Advanced is the only keratin smoothing system on the market that guarantees no color change, no restrictions, and lasting results for up to 30 shampoos. Its spray bottle allows for application in about an hour.
Response to Olez Advanced has been overwhelming with over 40,000 units sold in the past few months.
Attendees of this weekend's Cosmoprof North America will be able to see the results for themselves at booth D23210 where models will be displaying their before and after results with Olez Advanced. They are also able to request a FREE 2 oz. sample (One full application).
Non attendees interested in receiving a free 2 oz. Advanced Keratin Smoothing System may request a sample by registering as a professional at http://www.olez.com and sending an email to info (at) olez (dot) com.