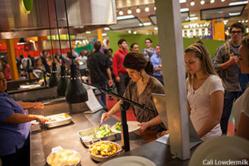 Lynchburg, VA (PRWEB) July 05, 2013
BestColleges.com, a website that helps people choose a place of higher education, recently announced its list of the 2013-14 top colleges for different categories. Liberty University was listed among the top schools for "Best Dining Halls," "Best College Campus Security," and "Best Intramurals."
Liberty's Reber-Thomas Dining Hall was listed alongside the University of Notre Dame, UCLA, Ohio State University, and Vanderbilt University for the best dining halls.
"Achieving recognition from BestColleges.com is beneficial to Liberty in many ways, such as providing a competitive advantage for recruitment and improving the quality of campus life. It also demonstrates the value of our meal plans to parents and students," said Lori Madden, district manager for Sodexo, Liberty's Dining Services provider.
The rankings are based on surveys of students and faculty, independent research, and other authoritative sources in the field.
Reber-Thomas Dining Hall has 10 different dining stations, from homestyle favorites, to Tex/Mex and Italian specialties, to an expansive soup and salad bar. "Simple Servings," a gluten- and other common allergen-free foods station, was recently added to serve balanced dishes for students with diet restrictions.
"We know that students who are well-nourished perform their best in academics, activities, and work leading to improved student satisfaction and retention," Madden said.
In addition to the dining hall, Liberty offers nearly 15 different dining options around campus, including Sub Connection, Doc's Diner, Dunkin' Donuts, Bistro 71, and Chick-fil-A.
(Last year, Liberty Dining was also ranked in the top 20 for "Best Cafeteria Variety" by CollegeProwler.com, an online college database that uses student input to rank nearly 7,000 schools nationwide.)
For the "Best College Campus Security" list, Liberty was cited for its exceptional campus police services, self-defense classes offered to students, and its widespread campus alert system.
Liberty's Intramural Sports program, one of the university's many Campus Recreation opportunities, was cited for the variety of sports offered on the "Best Intramurals" list. Liberty offers 20 different sports — including flag football, broomball, ultimate Frisbee, beach volleyball, and softball — attracting close to 7,000 students each year.
"Students benefit from participating in intramurals at Liberty because, from a health standpoint, it helps relieve the tension and stress of academics, is a great social outlet, and helps them hone leadership skills," said Ed Barnhouse, director of Intramurals.
He said Liberty's intramurals program is unique because there aren't many other schools that offer as much playing time.
"When you go to most colleges, you only get to play five to six games each semester. At Liberty, they get to play at least twice a week, so it really keeps students involved," he said.
Top-notch facilities also attract students.
"Our increase in facilities, including lighted turf fields exclusively used for intramural sports, and other multi-purpose facilities on campus, including an indoor soccer center and ice center, allow us to do so many things," Barnhouse said.
About Liberty University
Liberty University, founded in 1971, is the largest private, nonprofit university in the nation, the largest university in Virginia, and the largest Christian university in the world. More than 100,000 students attend classes on its 6,800-acre residential campus and study in its thriving online education program.