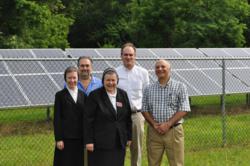 (PRWEB) July 05, 2013
BSC Clean Energy, an emergent renewable energy company in New Jersey, added to their list of renewable energy commercial solar projects with the recent activation of a solar energy system for Villa Victoria Academy, a private Catholic, and independent school owned and operated by the Religious Teachers Filippini. The system incorporates 658 240-watt Sharp panels installed on a roof of the school and incorporated within a ground mount system located on school property. The solar installation is estimated to produce over 185,000 kWh of clean renewable energy each year displacing 82% of the school's electricity needs. The project was built by Chris Andersen Roofing & Erecting Company and Advanced Solar Products.
Since 1933 Villa Victoria Academy has nurtured the young women entrusted to its care into smart, strong confident individuals who are leaders in their fields. Through limited class enrollment and a focus on the specific learning style of young women, Villa Victoria Academy strives to meet each student's needs and to develop her God-given abilities. In the classroom, on the stage, in the laboratory, on the athletic field, each student grows as an individual while serving an important role in the larger Villa Victoria Academy family.
About BSC Clean Energy:
BSC Clean Energy merges technology and capital structure to create optimal renewable energy finance solutions for corporations, governmental entities and educational institutions. The parent company of BSC Clean Energy is Bielat Santore & Company, a New Jersey based real estate development firm that over the last thirty (30) years has entitled and financed, in various credit markets and multiple industries, over one and a half billion dollars in residential and commercial real estate project.
Contact:
Barry Bielat
bar(at)123bsc(dot)com
732-988-2722
About Chris Anderson:
Since 1906, Chris Andersen Roofing & Erecting Co., Inc. has meant integrity, service and quality to building owners and consultants across New Jersey and in NYC. Chris Andersen Roofing & Erecting Co., Inc. has built a team of professionals from various backgrounds including engineering, distribution and several former business owners. It is from this broad base that C.A.R.E. has developed into a sought after partner in roof replacement, integral decking systems, standing seam, green roofing, preventative maintenance and Solar.
Contact:
Justin Lucas
njroof(at)yahoo(dot)com
(732) 826-1250
About Advanced Solar Products:
For over 20 years, Advanced Solar Products has led the way in solar energy design and construction using sustainable technologies. As one of the largest solar integrators on the East Coast, Advanced has installed over 40 megawatts of ground and roof-mounted PV systems ranging in size from under 10 kilowatts to over 14 megawatts. Advanced has contracted for some of the highest profile solar jobs in the region including the installation of "the largest privately-owned, net-metered solar system in the Western Hemisphere," on the McGraw-Hill campus in East Windsor, NJ.
Contact:
Peter L. Sudano, P.G., LEED AP
pete(at)advancedsolarproducts(dot)com
908-751-5818 x 109