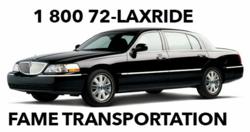 I don't believe in overcharging customers, if I wish to offer a lower rate to the airport in a nicer car, so be it. I treat others how I would like to be treated
Los Angeles (PRWEB) July 03, 2013
1 (800) 72-LAXRIDE, Southern California's top town car airport shuttle service to LAX and Burbank airport announced Tuesday, a brand new promotion by where 1 (800) 72-LAXRIDE promises to beat any taxi fare to or from the airport. 1 (800) 72-LAXRIDE, a division of Fame Transportation, is known for their superb service record and for prioritizing quick turnarounds and reasonable rates. Recently, Fame Transportation has expanded their service area to include the entire Southern California footprint. By adding new vehicles to their fleet including Mercedes S Class sedans and Chevy Suburbans, Fame Transportation is able to reach out to an expanded service area and offer their passengers a comfortable ride in a luxury vehicle from less than the cost of a cab fare. Fame Transportation offers the best and most affordable airport shuttle service to LAX hands down. Fame Transportation is able to meet the needs of more local visitors and residents.
Fame Transportation, is affiliated with the American Limousine Association (ALA) and has won four back to back awards as Los Angeles' top airport shuttle provider for the last four years. CEO Octavio Sanchez has come under fire by his competitors for offering such low rates and has defended his "lower than any cab fare" promotion by stating, "I don't believe in overcharging customers, if I wish to offer a lower rate to the airport in a nicer car, so be it. I treat others how I would like to be treated."
Sanchez has added over ten new luxury vehicles to the (800) 72-LAXRIDE fleet that include three Mercedes S Class sedans and two BMW 750 sedans. The new addition supplements Fame's already-extensive fleet that includes the new Lincoln Navigator, Lincoln Town Car and the company's squadron of quality stretch limousines, stretch SUVs and party buses, giving Southern California area customers even more options for a comfortable ride. Thanks to Fame's array of vehicles, Fame Transportation is able to provide individuals and large groups with LAX shuttle service, trips in the local area, and special event transportation, such as wedding limo service.
Fame Transportation is pleased to provide transportation throughout Los Angeles and the surrounding area, including Orange County, Ventura County, San Bernardino, and Palm Springs, as well as shuttle service to John Wayne Airport and shuttle service to Burbank Airport. Fame Transportation will also enable local residents who need transportation outside California to get the reliable and affordable service they need when they arrive at their out of state destinations.
Fame Transportation is pleased to offer limousine service and town car service for individuals, business clients, families, and special event transportation. The company is fully licensed and insured for the services it offers.
Fame Transportation can be contacted at 1(800)-72-LAXRIDE (800) 725-2974 or visit them at http://fametransportation.com/