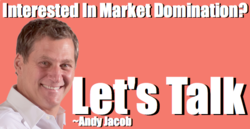 You won't be hearing a lot of people with the word's Xbox Music Pass rolling off of their tongues ini the future.

Andy Jacob
CEO
The Jacob Consulting Group
Palo Alto, California (PRWEB) July 04, 2013
Andy Jacob, America's leading business consultant and CEO of Jacob Consulting Group, says that Xbox Music for web is too little too late, and will have a challenging time catching up to similar services like Pandora and Serius XM
Chloe Albanesius of PCMag.com reports that Microsoft on Monday launched Xbox Music for the Web. Until now, Xbox Music was only available on Windows 8 and Windows Phone 8 devices, as well as the Xbox 360, but this update provides access via the browser at music.xbox.com. There's no free streaming option, however. You'll need to purchase an Xbox Music Pass to start listening. Microsoft is offering a free, 30-day trial (when you provide credit card information). After that, it's $9.99 for a one-month pass or $99.90 for a one-year subscription. The all-in-one music service lets music lovers dive into tunes as they see fit by streaming custom-created playlists as well as subscribing to and streaming songs.
Jacob says, "I believe Microsoft has been living in the world of too little too late. Microsoft getting into the paid streaming business is so late that it is almost laughable. I give them credit for trying, but Serius XM and Pandora already have top of name awareness, even though the formats are slightly different than the new Xbox Music. Once a subscriber is hooked into a paid service, it is hard to take them away. In addition, Microsoft made a huge mistake attaching the Xbox name to it. Xbox is for gaming. Always was, always will. Any line extension for this Xbox brand is marketing suicide. Microsoft should have branded the new music site, MicroMusic. It says what it is, it says which company is behind it, and distances itself from a gaming platform. I predict you will not be hearing a lot folks talking about their Xbox Music Pass in the future. Sometimes branding decisions are so simple that an overpaid corporate brand builder often times misses the obvious. This is one of of those times, " Andy Jacob says.
Andy Jacob, founder of Jacob Consulting Group, is known to many as a leading marketing guru and sales training guru, and is known for making bold, accurate business predictions. Jacob's keen insight and decades of experience will help an organization's sales cycle, and he is one of the only business consultants in the world to guarantee his results.