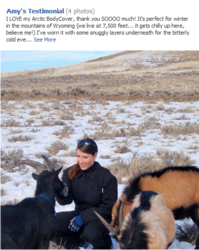 BodyCovers™ founder and designer, Tahira Shane, came to the idea of creating stylish coveralls for women while on a long drive back from an equestrian event where she had been competing, dressed in men's coveralls to protect her expensive show outfit
(PRWEB) July 03, 2013
The first coveralls designed specifically for women, BodyCovers™, has just increased production of the Arctic line for very cold weather reflecting the growing awareness of this ultra-warm winter garment.
The Arctic line is the coldest weather version of the stylish and practical BodyCovers™ coverall lines and the most recent on the market following the Summer Line and the Spring-Fall Line, the latter being only lightly insulated.
The coming Arctic line will be offered in two color choices, Black or Ruby Wine.
The line has grown each year in popularity, primarily by word of mouth from woman to woman, with a vast array of endorsements and testimonials on its Facebook page.
BodyCovers™ coveralls for women was truly "Designed By A Woman, For A Woman", reports Winnie Peng of http://www.Fashion-Product-Sourcing.com, manufacturer of the BodyCovers™ line.
BodyCovers™ founder and designer, Tahira Shane, came to the idea of creating stylish coveralls for women while on a long drive back from an equestrian event where she had been competing, dressed in men's coveralls to protect her expensive show outfit. She started wondering why no one had made special coveralls just for women…and decided to take on the project herself.
BodyCovers™ has now grown from that first idea into a successful, international brand almost exclusively by word of mouth.
"Even with the increase in production, we encourage women to place their orders as soon as possible to be sure their size and color choice is available well before the cold season sets in."
About:
Winnie Peng is an expert in fashion manufacturing and currently Senior Project Manager for China Product Sourcing and Marketing Ltd. (CPSM). She was previously Senior Inspector of
Quality Control and Corporate Compliance for Best Seller of Hong Kong, supplier of Europe's largest fashion retail group, Best Seller.
CPSM, fashion manufacturer, is a leading producer of fashions, fashion accessories and footwear for independent fashion designers and footwear importers around the world, since 2006. Fashion-Product-Sourcing.com.
Contact:
Winnie Peng
email: winnie.chinaproduct(at)gmail.com
Tel (USA) 1- 336-775-8615,
Tel (China) 136-6233-4753
Skype: winniethepooh9