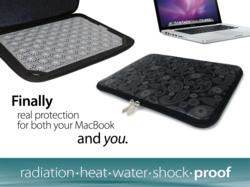 iSafer provides a no-nonsense safeguard against the potential hazards of radiation and heat to laptop users
Hsinchu, Taiwan (PRWEB) July 05, 2013
A good laptop sleeve should protect not only the machine, but also the person using it, according to the iSafer team, who recently launched their unique protective cover as an Indiegogo project.
On the surface, the new iSafer laptop sleeve looks like any other well-designed notebook soft case. However, this is a cover with a difference—featuring built-in technology that not only protects the notebook from water and impact, but actually prevents heat and harmful radiation from reaching the user.
Recent studies seem to confirm rumors that Wi-Fi radiation may be harmful to human health, with close contact to Wi-Fi radiation from laptops being suggested as a possible cause of low fertility and urinary system diseases. With this in mind, the iSafer team set out to find a solution to the problem that would provide effective prevention without detracting from aesthetics or adding extra bulk. After considerable research, they came up with a way to build a unique silver padding material right into the laptop sleeve, resulting in an attractive, lightweight and thin protective cover with additional health-related benefits.
The unique, built-in X-filament padding is where all the technological magic happens. Tests have shown that this unique material blocks out 99% of radiation without affecting Wi-Fi connection. The wire-structured pad is infused with special material that insulates heat and speeds up thermal circulation. Unprotected, laptops temperatures can reach above 40°C. Using iSafer efficiently maintains laptop operating temperatures at around 36°C, which is about the same as healthy body temperature. On average, running a laptop for 5 hours would produce 0.0283kg of carbon. The iSafer sleeve effectively circulates heat and cools down the device, bringing carbon production down to 30% lower than average conditions.
Besides providing built-in health features to notebook users on the go, the iSafer sleeve also functions beautifully as a durable and attractive 'standard' laptop case. The attention to construction quality that the iSafer team has put into the crafting of this product becomes evident at first glance. It is made of a unique eco-sponge material—the same type used in wet suits—which offers unparalleled protection from both water spills and impact damage. It is also pleasant to use and touch, providing a comfortable degree of soft yet firm elasticity and grip.
The carefully-selected materials used in iSafer sleeves are certified by:

RoHs (Restriction of Hazardous Substances)
CPSIA (Consumer Product Safety Improvement Act)
PAHs (Polycyclic aromatic hydrocarbon) (less than 10mg/kg in sum of all PAHs)
REACH (Registration, Evaluation, Authorization and Restriction of Chemicals)
The product is also designed to be environmentally-friendly. It is a safe product that does not contain any hazardous materials and has passed the following regulations:

Green material
ULC
Oeko-tex Standard
For the outer shell, the iSafer team selected a stylish yet low-key Paisley pattern for their product debut. This design has its roots in Asian culture, and is associated with eternity and life—echoing the eco-friendly philosophy of the iSafer brand. The pattern was printed on non-hazardous substances and uses advanced printing technologies to ensure its duration and colorfastness.
With its July Indiegogo campaign launch, Gracio seeks funding of US$20,000 within a period of two months. Currently, iSafer sleeves are only available for the MacBook series. Matching power adapter pouches will be provided to backers who opt for the early bird package.
Gracio is the company behind the iSafer product. It is a Taiwanese company dedicated to the research of special materials and new processing technologies to generate innovative, useful, aesthetic and environmentally-friendly product designs. With a powerful industrial technology background, it provides world-class R&D, production, logistic and service capabilities.