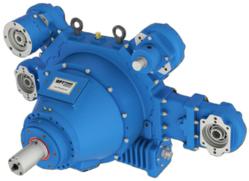 These power pump drives are extremely versatile
(PRWEB) July 05, 2013
WPT power pump drives are available from Industrial Clutch Parts (ICP) for indirect or auxiliary drives and are suitable for off highway and mobile equipment.
Chris Holmes, ICP Managing Director said: "These power pump drives are extremely versatile, featuring several types of pump pads and accessories. The drive mounts between the engine and the rugged WPT Power Take-Offs and provides for multiple live or clutched pumps.
"The pump drive is self-contained and does not require external lubrication or pumps. Internal heat exchangers can be added where required and a variety of options, including PTO clutches, are available.
"All units mount to standard SAE housings and provide up to 8 pump mounting faces and are provided with flexible couplings on the input side for torsional dampening."
Available in four sizes, the WPT Power Pump Drives feature maximum torque capacities from 413 lb-ft [560 Nm) through 4650 lb-ft [6300 Nm] and operating speeds from 2,100 rpm to 3,000 rpm.