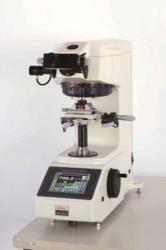 Spectrographic's programme of Autumn Seminars will introduce a different and interesting perspective on metallurgical products and applications.
(PRWEB UK) 8 July 2013
Spectrographic Limited, a leading supplier to the material science industry, has announced an exciting new programme of seminars for Autumn 2013. The seminars are being run in association with Mitutoyo, the internationally renowned manufacturer of precision measuring equipment. A range of new and innovative products and applications will be presented to individuals and organisation working in the material science industry.
The first seminar, which is scheduled for October 2013, will showcase a brand new micro hardness testing machine developed by Mitutoyo.
Paul Chippendale, Managing Director of Spectrographic, commented: "Spectrographic's programme of seminars is due to start in Autumn 2013. Our aim is to introduce a different and interesting perspective on metallurgical products and applications. We want delegates to enjoy their day and feel it has been a positive experience."
"The first seminar will showcase Mitutoyo's new fully-automatic micro hardness testing system, which we anticipate will be very popular with users across the industry."
The 2013 automatic micro hardness tester HM-211 / 221 (Series 810), which is to be presented at the first seminar, is equipped with a new software interface. This allows operators a faster set up of complex indentation patterns, and includes a new macro montage, as well as auto focus features.
Material scientists from across the UK and Europe are being invited to attend the seminars, which are being held at various locations nationwide including Andover, Halifax, Coventry and East Kilbride. Places are limited and customers are advised to book early.
Each seminar will include a presentation by a product specialist, and will look at testing applications. Delegates will have the opportunity to discuss showcased products in detail and to seek advice on the day.
Seminar topics will include automatic micro hardness testers, UCI portable hardness systems, testing equipment, preparation equipment and microscope systems.
For further information on Spectrographic's Autumn Seminars, please visit http://www.metallography.co.uk or contact a member of the team on telephone 01274 966 173 or email info(at)metallography(dot)co(dot)uk.
About Spectrographic
Spectrographic Limited is one of the UK's leading suppliers of metallographic equipment and consumables to the material science industry. The company offers a comprehensive range of metallographic products and equipment for material science analysis and quality inspection procedures. They also provide specialist advice in material sample preparation, computer based image analysis and microscopic inspection.
Spectrographic is a family-run business, which was originally founded in 1999 as Spectrographic Laboratory Supplies. Based in Baildon, West Yorkshire with demonstration laboratories in Bradford, Halifax and Leamington Spa, Spectrographic was set up, and continues to be run, by Managing Director, Paul Chippendale – a skilled metallographer with over 20 years' experience in the industry.
Their customers are expert metallurgists working in the automotive, oil and gas and aerospace industries, and for higher and further education establishments. Spectrographic prides itself on providing excellent customer service and an ability to deliver solutions, which are economical, durable and tailored, enabling customers to complete tasks to their exact and required standards.
About Mitutoyo
Mitutoyo is the world's leading manufacturer of precision measuring equipment. The company, which operates from around 40 countries across the globe, offers a wide range of products for the manufacturing industry, from micrometers, calipers and dial gauges to hardness testers, vision measuring systems and 3D coordinate measuring machines.
In the UK, Mitutoyo, offers machine-specific training for customers as well as general metrology (the scientific study of units of measurement) training courses for companies wishing to upgrade staff skill levels.
Their support services include technical advice on specific applications of company products, UKAS-certified calibration, sub-contract measurement, and bespoke system design for particularly challenging measurement and component handling applications.