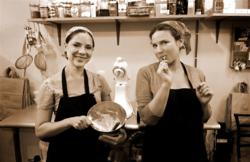 Ciaran Connolly, Co-Founder of ProfileTree, "Facebook and other social media platforms are essentially the cheapest and most effective form of getting the word out there about your business."
New York, NY (PRWEB) July 07, 2013
The life of a baker is a delicious, fun filled life that is also tiring at times. The owners of Prohibition Bakery talk to ProfileTree about what it takes to create delicious baked goods.
When asked for their views on the life of a baker, they said, "Being a small business owner is very interesting. Every day presents a new challenge or opportunity."
The girls are very proud for several things, especially, "Getting in the New York and Huffington Posts was really exciting."
Their advice to anyone starting a business is simple, "Really think about what you're doing--what direction you want to go, how you hope to develop, what that will entail. And then be aware that things will probably go completely in the other direction."
The girls swear by the internet and social media, saying, "It's how we do our books, keep track of recipes, get new flavors ideas, and so much more…Social media plays an enormous role in our business."
Ciaran Connolly, Co-Founder of ProfileTree, says, "Facebook and other social media platforms are essentially the cheapest and most effective form of getting the word out there about your business."
Profile Tree's main goal is to help small business owners reach new customers every day with the most innovative online marketing tips and techniques.
About ProfileTree: ProfileTree is a free listing service where self employed and small business owner can create an online marketing profile. From Pencil or Portrait Artist to Self Employed Service Providers - anyone can create a skills profile on ProfileTree for free.
The website also enjoys sharing motivation photos for the self employed, helping with focus and drive. From professional wedding photographers to anyone offering a service - it can be listed online today.