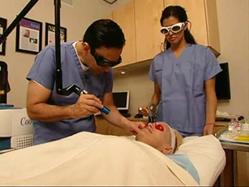 Los Angeles, CA (PRWEB) July 07, 2013
According to a June 26, 2013 Elle.com article, titled "6 Tips for Keeping Clear Skin This Summer," some people may find it difficult to keep their skin clear during the summer months. However, one can avoid skin issues such as acne breakouts and ensure that the skin looks fresh and dewy all summer by taking some precautionary skin care measures (Go to goo.gl/RvICc).
"Many people who suffer from breakouts do not apply sufficient sunscreen when going out into the summer heat for fear that the sunscreen will clog up their skin pores," says Dr. Simon Ourian, Medical Director of Epione Beverly Hills. "Instead of skipping sunscreen altogether, it may be advisable to use light sunscreens that the skin can absorb quickly. Failure to apply sunscreen makes the skin susceptible to sunburns, which can pose greater health risks such as skin cancer."
According to the article, individuals who have oily skin and want to prevent acne breakouts during summer may regard using oil-based skin cleansers as counterproductive since their skin already produces too much oil. However, oil-based cleansers actually keep the skin clear because such cleansers can cut through the excess oils produced naturally by one's skin and remove all traces of make-up and sunscreen. As a result, they unclog skin pores more effectively than other types of skin cleansers and lower the risk of acne breakouts.
Other suggestions made in the article include identifying a method of exfoliating skin that is gentle but effective. Chemical exfoliation methods contain beta hydroxy acids and can help one to remove dead skin and reveal new, clear skin in a non-inflammatory manner. Additionally, to help fight body acne breakouts, one should use non-comedogenic sunscreens and change sweaty clothes regularly to avoid bacterial skin infections that can cause breakouts.
"One of the most effective ways of ensuring that naturally oily skin remains clear throughout the summer is using skin care products that can soak up the excess oil from the skin and reduce the amount of oil produced in the skin's oil glands," says Dr. Ourian. "One can avoid excess oil production by applying skin care products that contain Retinol before bed daily."
Dr. Ourian has been a pioneer in laser technology and non-invasive aesthetic procedures including Restylane, Juvéderm, Radiesse and Sculptra. These treatments are used for the correction or reversal of a variety of conditions such as acne, acne scars, skin discoloration, wrinkles, stretch marks, varicose veins, cellulite, and others. More information about keeping the skin clear can be found on Epione's website.