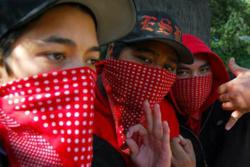 "Urban areas are today often spaces of violence. Health centers such as FOCUS can become important spaces where community and peace are fostered." - Aldo Civico
Newarl, NJ (PRWEB) July 10, 2013
Doctors, pharmacists, social workers, and nurses who staff the FOCUS Community Healthcare Center in Newark will participate in a second workshop in communication skills and conflict resolution. The project unfolding is a three-year collaboration.
This unique approach is spearheaded by Laura Simms, a world-renowned storyteller and compassionate listening specialist working internationally and in High Schools throughout the U.S., and Aldo Civico, anthropologist from Rutgers University and a Strategic Interventionist working on Urban Peace, and conflict resolution in hot spots around the world.
Learning to listen with unbiased ears helps patients and healthcare specialists reframe stories of violence and illness. Our intention is to change habits of reaction and violence by learning to transform the stories we tell and how we tell them. Participants practice storytelling, deep listening, and conflict resolution as part of their health care approach. Simms and Civico will collaborate with the FOCUS staff in empathic and active listening over the next three years.
FOCUS is committed to providing better health care to Newark residents through this interdisciplinary and holistic approach. The mastering of communication and conflict resolution skills is an important and strategic component in building a relationship of trust, empathy and compassion between health care professionals and patients. Starting with FOCUS, Simms and Civico hope to bring staff and special narrative skills into Newark neighborhoods rifled with violence and intolerance. "The stories we tell and how we tell them makes the difference. The way we use language, presence and listening either promotes a healthy attitude and the healing potential of powerful trust or keeps us embittered in repeated negative patterns of behavior," shared Laura Simms.
By creating "spaces of peace" internally and externally in the midst of violence, FOCUS a community healthcare center in Newark, uses its significant presence to transform families, youth, and community, and the nature of health care. "We are very excited to work with the health care professionals at FOCUS. There is much violence in our cities, and places such as FOCUS can become strategic spaces that foster community and peace in the midst of violence," said Aldo Civico.