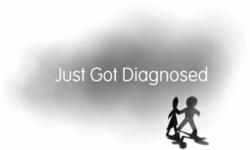 A lot of emotions come up along the cancer survivorship journey. It's so important to have a safe place to talk.
New York, NY (PRWEB) July 09, 2013
Dr. Gary addressed a meeting of the Us TOO prostate cancer support group in Sierra Vista, AZ via Skype on June 28, 2013. A specialist in the emotional impact of chronic and catastrophic illnesses, Gary McClain, PhD, developed JustGotDiagnosed.com to address a serious need he saw going unfulfilled; namely, a way for newly-diagnosed patients to receive help in coping with their emotional reactions to their diagnosis. Dr. McClain also blogs on the patient social networking site, AllianceHealth.com.
Dr. McClain's presentation focused on the psychosocial aspects of prostate cancer treatment and ongoing adjustment after treatment. Topics included emotional self-care, the importance of emotional support, stress management, and communicating with family members. Attendees included men who were currently being treated for prostate cancer, or had completed treatment, as well as their partners. Us TOO is an international prostate cancer and education support with 325 support group chapters worldwide.
"This was an incredible experience," Dr. McClain said. "It is so gratifying to talk to a group of individuals who are so receptive to the message of emotional support and communicating with family members after cancer treatment.
"A lot of emotions come up along the cancer survivorship journey," McClain continued, "and patients don't always have an opportunity to talk about how they are feeling. Uncertain about the future, for example. And facing additional chronic conditions. Family members are often attempting to cope with their own emotions, and their own feelings of fear and helplessness. Yet, being the 'strong, silent type' leaves patients feeling alone and unsupported during a vulnerable time."
"And to be able to do this via Skype is truly a technology miracle," McClain concluded.
About Dr. Gary McClain and JustGotDiagnosed.com
Dr. Gary McClain is a therapist, educator, patient advocate and author who specializes in working with individuals who have been diagnosed with chronic and catastrophic medical conditions, focusing on issues that include coping emotionally, gathering information, making lifestyle and treatment decisions, managing relationships, and communicating with healthcare professionals. As "Dr. Gary," he blogs on patient social networking boards on AllianceHealth.com. Founded and developed by Dr. McClain, JustGotDiagnosed.com offers information, guidance and inspiration for newly diagnosed patients, their caregivers, and healthcare professionals. His program for newly-diagnosed patients, Prepared for the Road Ahead ™, is focused on emotions, lifestyle management, communications, and vision for the future. Visit JustGotDiagnosed.com.
Us TOO International Prostate Cancer Education & Support Network is a grassroots, registered 501(c)(3) non-profit prostate cancer education and support network of 325 support group chapters worldwide, providing men and their families with free information, materials and peer-to-peer support so they can make informed choices on detection, treatment options and coping with ongoing survivorship. The organization was founded in 1990 by five men who had been treated for prostate cancer. The mission of Us TOO is to help men and their families make informed decisions about prostate cancer detection and treatment through support, education and advocacy.