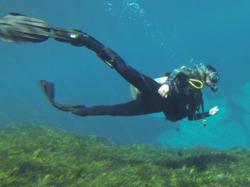 The tour serves as an introduction to scuba diving and requires no experience to participate.
Panama City Beach, FL (PRWEB) July 05, 2013
TripShock.com recently added the Discover Scuba Adventure to attraction offerings in Panama City Beach, FL. The tour serves as an introduction to scuba diving and requires no experience to participate. This professionally supervised dive is perfect for the adventurous types that want to experience scuba diving without committing to a certification course. Amateurs will benefit from an introductory dive in shallow water with three locations to choose from.
Morrison Springs provides divers with clear water, calm conditions, and abundant underwater wildlife for viewing pleasure. The freshwater springs located in Walton County pump out 70 million gallons of water a day, making it an excellent place to introduce amateurs to the world of scuba diving.
Located in Ponce De Leon, FL, Vortex Springs is the state's premier inland diving destination. Vortex is the largest dive facility in Florida and offers clear water and on site professionals year round. The site also features underwater caves and abundant wildlife along with excellent visibility.
St. Andrews State Park Jetties features a favorable saltwater environment for viewing marine wildlife. Participants with snorkeling experience and a high level of comfort in the water will experience a shore dive during high tides or slack tides only.
TripShock.com users will receive complimentary scuba equipment rentals, hands on instruction, and 1-2 tanks on their Discover Scuba Adventure. The scuba crew is First Aid, CPR, and AED certified. However, customers are required to pass a medical questionnaire or consult their physician prior to diving to ensure safety.
TripShock.com is an online booking site featuring attractions, tours, and accommodations along the Gulf Coast. To book a Discover Scuba Adventure, please visit TripShock.com.